For Immediate Release: 6/30/2023
California State Parks Introduces what3words Tool
Contact:
Doug Johnson, Information Officer
Frankie Cowan, Senior PR Manager
at what3words

New Technology Will Assist Lost or Stranded Visitors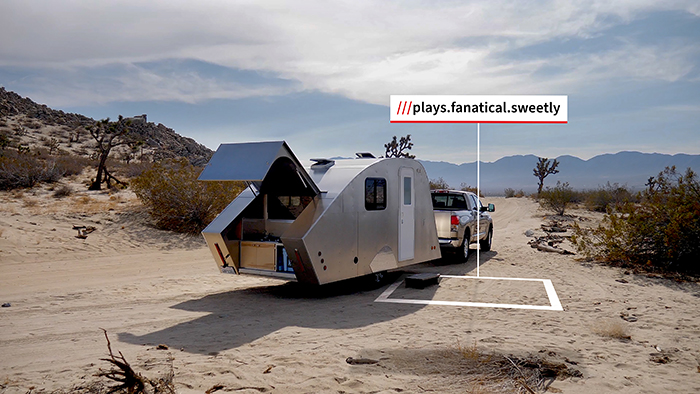 SACRAMENTO, Calif.—California State Parks is excited to announce its partnership with innovative location technology, what3words. A new tool in the State Parks toolkit, what3words provides dispatchers with technology to assist visitors in the event they become lost, stranded or who otherwise need help from emergency services. Using this revolutionary technology, State Parks dispatchers will now be able to pinpoint the precise locations of individuals who become lost with just three dictionary words, so that help can be sent to where it is needed.
what3words provides users with a simple way to communicate precise locations. It has divided the world into a grid of 10 ft x 10 ft squares, and given each square a unique combination of three words: a what3words address. This means that every park bench, parking space, pitch on a campsite, and remote spot on a hiking trail has its own what3words address. For example, ///tools.melted.studs takes you to the exact entrance to Jedediah Smith Redwoods State Park's campground. The app is available in over 50 languages to date, and is free to download for both iOS and Android devices.
"Being able to locate a caller during an emergency is essential and the faster the location is confirmed, the faster help can be dispatched," said California State Parks Director Armando Quintero. "what3words enables callers and dispatchers to communicate precise locations with just three words and quickly get the help they need."
"From Garrapata on the Big Sur coast to Bodie State Historic Park near the Sierra Nevada, California's state parks offer some of the most stunning and varied landscapes on the planet, attracting explorers from across the globe,' said what3words CMO Giles Rhys Jones. "With every 10 ft square having its own what3words address it is simpler than ever to arrange meeting spots with your friends, save precise locations of epic viewpoints, remember the space you parked in, and in the event of an emergency - describe exactly where to send help."
what3words already covers the entire globe, so you can easily discover addresses for all 280 California state parks in its system, including all parks and campgrounds on the internal and public GIS. In addition, the official CA State Parks app, OuterSpatial, now displays what3words addresses for over 8,000 POIs in the State Park System, including campsites, trailheads, and picnic areas. OuterSpatial is working together with what3words to offer more ways to use precise, three-word addresses in the CA State Parks app, with updates due to be released later in the year.
what3words can also be used for non-emergencies, like giving friends and family directions to a specific campsite or sharing beautiful viewpoints. Being able to precisely communicate where to find key locations can make navigating through the vast parks simple and stress free, allowing visitors to make the best use of their time and enjoy the experience to the fullest.
---
Subscribe to California State Parks News via e-mail at NewsRoom@parks.ca.gov
California State Parks provides for the health, inspiration and education of the people of California by helping to preserve the state's extraordinary biological diversity, protecting its most valued natural and cultural resources, and creating opportunities for high quality outdoor recreation.