For Immediate Release: 5/17/2023
Mount Diablo State Park Temporarily Closes North Gate Road During Emergency Road Slide Repair
Elise McFarland, State Park Interpreter III
(925) 961-4063

Ryen Goering, State Park Superintendent
(925) 890-4403

WALNUT CREEK, Calif.— California State Parks today announced the temporary closure of North Gate Road at Mount Diablo State Park to pedestrians, vehicles, equestrians and bicyclists. The road will be closed May 19 through mid-September to stabilize and rebuild a section damaged by the 2023 winter storms.
Visitors will be able to access the summit and developed areas of the park from the South Gate Entrance (2675 Mt. Diablo Scenic Boulevard, Blackhawk, 94506) on the Danville side of the mountain. Whether driving or riding your bike, please ensure you are travelling at a safe speed for you, wildlife, and fellow visitors.
For updates on the progress of the project, visit Mount Diablo's Facebook page at Facebook.com/MountDiabloStatePark.
About Mount Diablo State Park
Located in the San Francisco Bay Area to the east of Walnut Creek, people have been drawn for generations to Mount Diablo for its spectacular views from the summit which extend over 100 miles in all directions on a clear day. Visitors have been attracted by the complex geology that has created amazing rock formations such as the "wind caves" at Rock City, and by the mountain's variety of habitats which are home to over 600 species of plants and an amazing array of wildlife such as butterflies, bats and birds of prey, tarantulas, bobcats, lizards, snakes, and deer.
In 2021 Mount Diablo celebrated its 100th year as a state park. Though more than 100-years is a long history as a park, the importance of Mount Diablo was recognized long before that. For thousands of years Native Americans were the caretakers of this land. Many groups considered and treated the mountain as a sacred place and continue to do so today.
Since becoming a park in 1921, Mount Diablo has been protected as a natural area, and over the past 100 years the park has grown from only a few hundred acres to over 20,000 acres. Today it is a destination for those who would like to view wildlife and wildflowers, experience beautiful views, hike, camp, picnic, run, cycle, climb, ride horses, or gaze at the stars.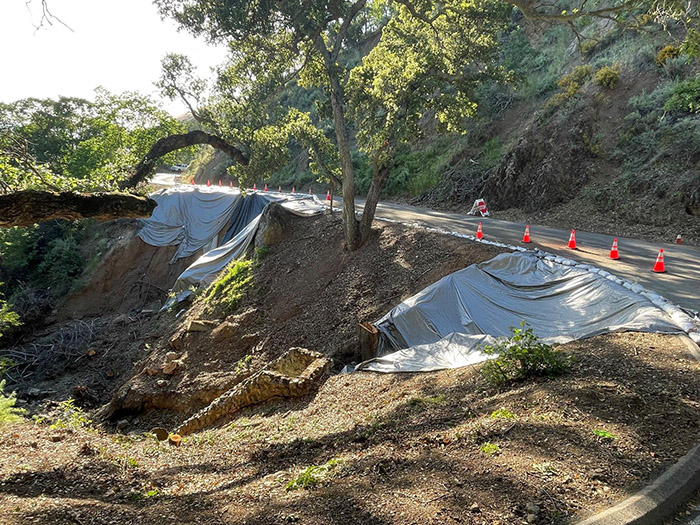 A view of the storm damage along Mount Diablo's North Gate Road.
---
Subscribe to California State Parks News via e-mail at NewsRoom@parks.ca.gov
California State Parks provides for the health, inspiration and education of the people of California by helping to preserve the state's extraordinary biological diversity, protecting its most valued natural and cultural resources, and creating opportunities for high quality outdoor recreation.