For Immediate Release: 1/26/2023
2022 Governor's Historic Preservation Award Recipients Announced
Contact: Jorge Moreno | Information Officer
The California Office of Historic Preservation (OHP) is pleased to announce the five recipients of the 2022 Governor's Historic Preservation Awards. Each of the projects represents exemplary achievements on behalf of preserving California's richly diverse heritage. This year's award recipients range from the rehabilitation of a historic resource to preserve and tell the story of what is considered the "Ellis Island of the West," to a podcast that advances the work and mission of historic preservation.
"The dedication of California citizens to celebrate and commemorate the places and stories important to them is nothing short of inspiring. We are fortunate to continue to expand the rich mosaic of our shared heritage," said State Historic Preservation Officer Julianne Polanco. "It is an honor to recognize the efforts of our communities with this awards program."
In recognizing these award recipients, Governor Gavin Newsom continues a tradition that has taken place annually since the awards program was established in 1986. The Governor's Historic Preservation Awards Program is distinguished from other preservation awards in two important respects: It emphasizes involvement by community groups, and it recognizes a broad array of preservation activities, from building rehabilitation to archaeology, education and preservation planning.
Here are the 2022 award recipients:
California State Parks Director Armando Quintero and State Historic Preservation Officer Julianne Polanco will present the awards to recipients at a ceremony on March 30, 2023, in Sacramento. The ceremony will be streamed live on the OHP Facebook page and YouTube channel.
For more information about the awards program, please visit the OHP website at www.ohp.parks.ca.gov/governorsawards.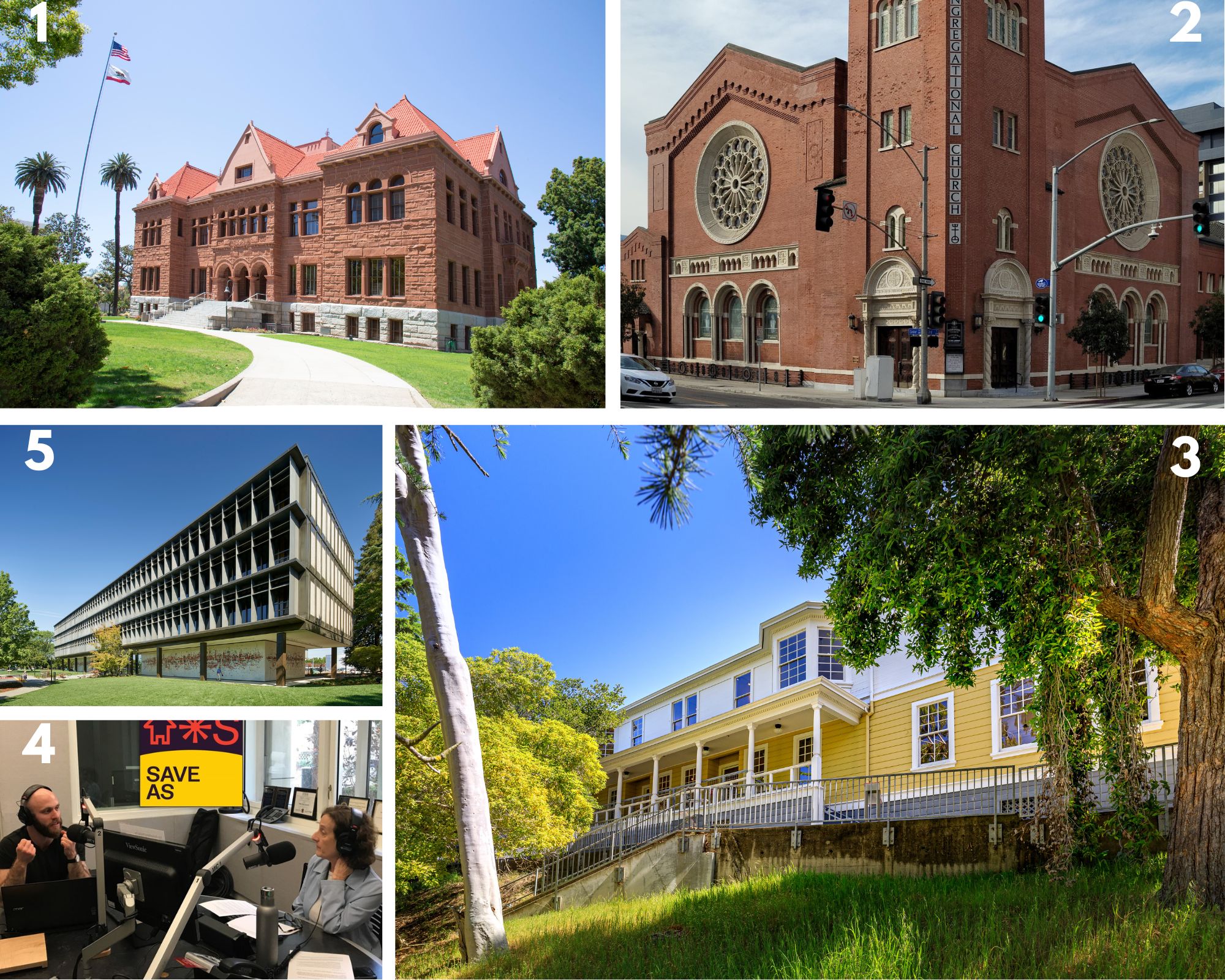 Photo 1: Restored Arizona sandstone facade of the Old Orange County Courthouse, Santa Ana. Photo 2: First Congregational Church of Long Beach, Long Beach, showing the restored rose windows. Photo 3: Rehabilitated Angel Island Immigration Station Hospital, Angel Island State Park, San Francisco. Photo 4: "Save As: NextGen Heritage Conservation" podcast in progress, University of Southern California, Los Angeles. Photo 5: Rehabilitated SMUD Headquarters Building, with Thiebaud mural encircling the ground-level walls, Sacramento.
---
Subscribe to California State Parks News via e-mail at NewsRoom@parks.ca.gov
California State Parks provides for the health, inspiration and education of the people of California by helping to preserve the state's extraordinary biological diversity, protecting its most valued natural and cultural resources, and creating opportunities for high quality outdoor recreation.