For Immediate Release: 1/17/2023
California State Parks Closes Mattole Road in Humboldt Redwoods State Park Due to Storm Damage and Potential Landslide Risk
Contact:
Keven Harder
Supervising Ranger
(707) 845-6171
WEOTT, Calif.— California State Parks today closed Mattole Road in Humboldt Redwoods State Park until further notice due to the recent storm damage and the risk for a potential landslide. The closure is located 1.5 miles west of the juncture with Highway 101. Mattole Road runs west from the highway at the confluence of the south fork and main stem of the Eel River, then traverses through Humboldt Redwoods State Park.
This is an active situation, and the extent of the damage or stability of the roadway is currently unknown. There is potential for a landslide in this area and drivers and pedestrians should stay well away in case of significant subsidence. For drivers on the west side of the closure, the best detour is to go west and north on the Mattole Road towards Ferndale, then connect to Highway 101 from there.
There is no current estimate of when the road will reopen but up-to-date information will be provided at the park's website: parks.ca.gov/HumboldtRedwoods. The public is also urged to check road closures at Caltrans' website: QuickMap.dot.ca.gov.
There are a number of park units in the North Coast Redwoods and across the state impacted by the winter storms. For the latest updates, please visit parks.ca.gov/incidents and check with the park unit you plan to visit before heading out as conditions can change without notice.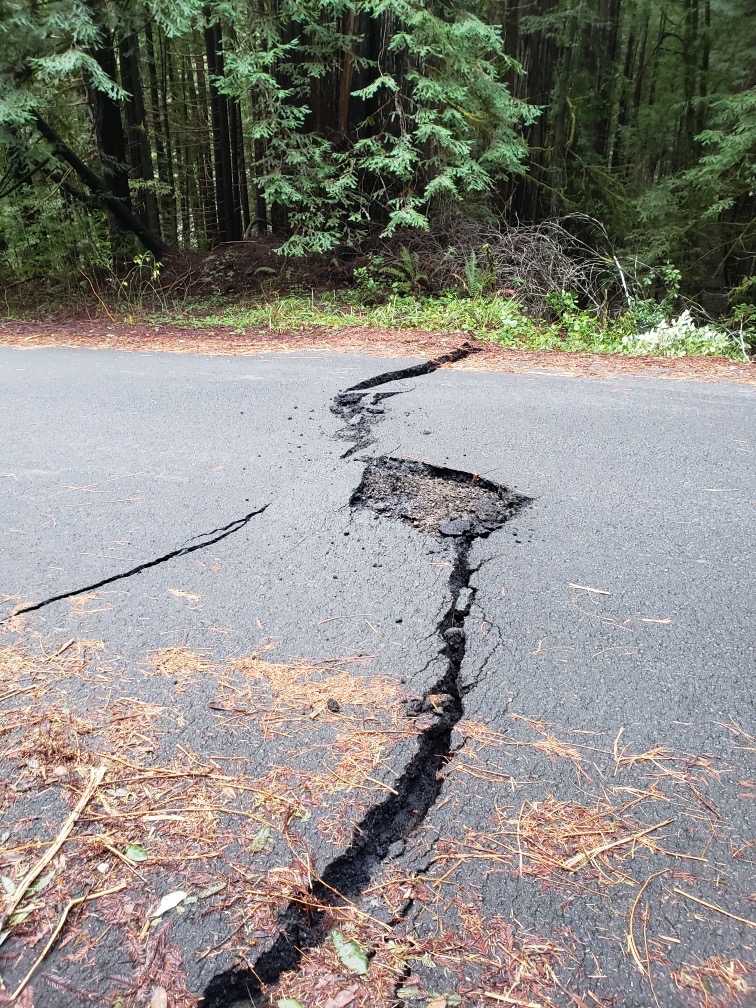 Crack in Mattole Road, Humboldt Redwoods State Park. Photo from California State Parks.
---
Subscribe to California State Parks News via e-mail at NewsRoom@parks.ca.gov
California State Parks provides for the health, inspiration and education of the people of California by helping to preserve the state's extraordinary biological diversity, protecting its most valued natural and cultural resources, and creating opportunities for high quality outdoor recreation.