For Immediate Release: 9/28/2022
Yurok Tribe Signs Agreement with California State Parks for Collaborative Approach in North Coast Redwoods
Contacts:
State Parks
newsroom@parks.ca.gov

Matt Mais, Yurok Tribe
mmais@yuroktribe.nsn.us
SACRAMENTO, Calif.— California State Parks and the Yurok Tribe signed a Memorandum of Understanding (MOU) today to establish a collaborative approach to the management, preservation, and interpretation of cultural and natural resources within Yurok Tribe's ancestral lands in the North Coast Redwoods District.
"State Parks is honored to build upon our relationship with the Yurok Tribe towards collaborative management and shared stewardship," said California State Parks Director Armando Quintero. "When the Yurok Tribe and other California Native American Tribal Nations can access their ancestral lands and continue their cultural traditions and practices, all Californians will inevitably benefit."
"I would like to thank California State Parks Director Armando Quintero and North Coast Redwoods District Superintendent Victor Bjelajac for taking action to correct this longstanding injustice. The agreement ensures that our culture and traditions as well as our traditional ecological knowledge will continue to be passed from one generation to the next," said Joseph L. James, the Chairman of the Yurok Tribe. "Additionally, the reintegration of tribal land management practices is essential to the long-term health of the redwood forest ecosystem."
The MOU will:
Support the integration of the Yurok Tribe's Traditional Ecological Knowledge into natural resource management practices at state parks in the Yurok Tribe's ancestral lands.
Support the maintenance of traditional cultural practices by providing Yurok Tribe tribal members access to specific state parks with their tribal identification cards. Yurok Tribe tribal members may also use their tribal identification cards to gather plant materials and minerals for traditional purposes at these parks.

Furthermore, the implementation of Traditional Ecological Knowledge and traditional Yurok gathering practices will promote the sustainability of native plant species and habitats, helping address the climate and biodiversity crisis.
The MOU acts on the Governor's formal apology to Native Americans and the Statement of Administration Policy on Native American Ancestral Lands by supporting co-management of and access to natural lands that are within the Yurok Tribe's ancestral lands.
The agreement was also announced today at the California Natural Resources Agency's 30x30 Partnerships Kick-off Event. The 30x30 initiative is an international movement to protect 30 percent of lands and coastal waters by 2030. With Governor Gavin Newsom's leadership, California is on the leading edge of the effort as more than 100 countries and subnational governments have adopted similar targets. California has issued its Pathways to 30x30 Strategy. The kick-off meeting will jumpstart collaboration and community engagement around to achieve the state's goals.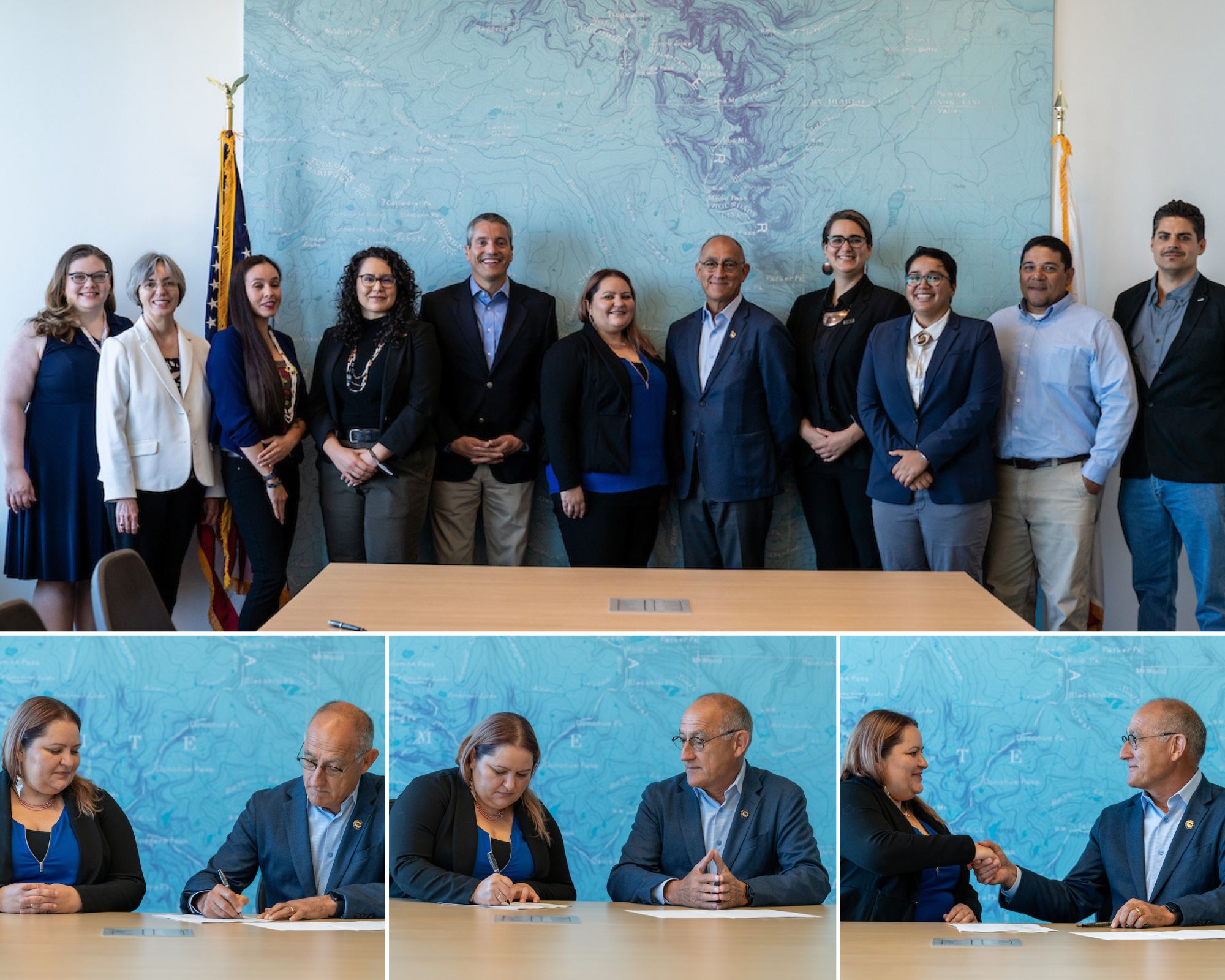 Top: Representatives of the Yurok Tribe, State Parks staff and Natural Resources Agency Secretary Wade Crowfoot (center in dark suit) at the MOU signing in Sacramento on Sept. 28, 2022. Bottom photos: Tribal Historic Preservation Officer Rosie Clayburn with the Yurok Tribe and State Parks Director Armando Quintero sign the MOU. Photos from California State Parks.

Yurok Tribe
With more than 6,300 enrolled members, the Yurok Tribe is currently the largest Tribe in California. The Tribe provides numerous services to its citizens and the local community. The Tribe's major initiatives include holistic forest management, fisheries protection, restoration and management, Klamath dam removal, condor reintroduction, natural resources conservation, cultural preservation, sustainable economic development and land acquisition
---
Subscribe to California State Parks News via e-mail at NewsRoom@parks.ca.gov
California State Parks provides for the health, inspiration and education of the people of California by helping to preserve the state's extraordinary biological diversity, protecting its most valued natural and cultural resources, and creating opportunities for high quality outdoor recreation.