For Immediate Release: 9/20/2022
California State Parks' Off-Highway Motor Vehicle Recreation Division Awards $29.4 Million in Grants for Off-Highway Vehicle Recreation in California
Contact:
Newsroom@parks.ca.gov

SACRAMENTO, Calif. – California State Parks' Off-Highway Motor Vehicle Recreation (OHMVR) Division has announced the final awards for the 2022 Grants and Cooperative Agreements program (Grants program). One hundred local and federal agencies, districts, and nonprofit organizations were awarded funding for their off-highway vehicle (OHV) recreation activities. These grants help maintain trails for OHV recreation and/or for motorized access to non-motorized recreation, educate the public on responsible OHV recreation, protect wildlife and property including natural and cultural resources, and restore/repair habitat damaged from illegal or legal OHV use.
The OHMVR Division evaluated more than $36 million in grant funding requests and awarded $29.4 million in grants to the successful recipients.
The 141 projects awarded by project type include:
Acquisition: $90,000 (1 project)
Ground Operations: $16,107,035 (44 projects)
Planning: $1,302,965 (5 projects)
Restoration: $3,361,014 (8 projects)
Education and Safety: $1,543,489 (14 projects)
Law Enforcement: $7,000,000 (69 projects)
"We are thrilled to be able to help small non-profit organizations to large state governments achieve their environmental and operational goals since this program began in 1972," said OHMVR Division Deputy Director Sarah Miggins. "With countless success stories over the years, OHV grants remain a chief tool to further protect California's public lands so that all Californians can enjoy this much-beloved recreational activity."
The OHMVR Division has awarded funding for grants and other assistance agreements totaling just over $760 million since the inception of the Grants program.The annual program provides state funding through the OHV Trust Fund for well managed OHV recreation in the State of California by providing financial assistance to eligible agencies and organizations that develop, maintain, operate, expand, support, or contribute to well managed high-quality OHV recreation areas, roads, and trails. In addition, the program seeks to responsibly maintain the wildlife, soils, and habitat of projects areas in a manner that will sustain long-term OHV recreation.
To view a complete list of 2022 awarded projects or to obtain more information about the grants program and opportunities, please visit the OHMVR Division grants webpage at OHV.parks.ca.gov/OHV_Grants.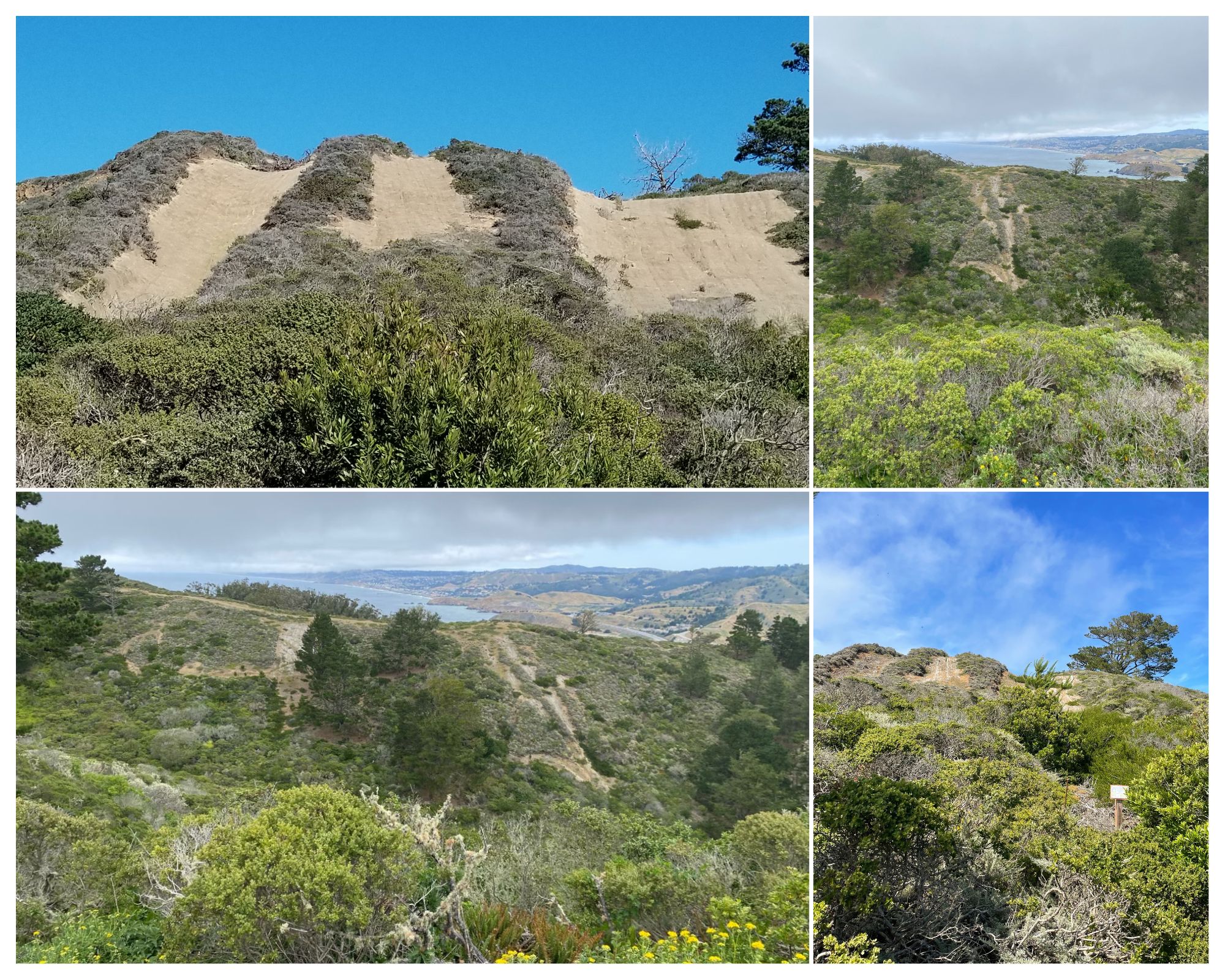 Top left: Before a restoration project at Pedro Point Headlands, Pacifica. Top right and bottom photos: After restoration. Photos from California State Parks.
---
Subscribe to California State Parks News via e-mail at NewsRoom@parks.ca.gov
California State Parks provides for the health, inspiration and education of the people of California by helping to preserve the state's extraordinary biological diversity, protecting its most valued natural and cultural resources, and creating opportunities for high quality outdoor recreation.