For Immediate Release: 9/2/2022
California State Parks Urges Public to Take Precautions During Heat Wave
Contact:
Newsroom@parks.ca.gov

SACRAMENTO, Calif.—California State Parks urges visitors to avoid strenuous recreational activities and to plan ahead as some parks may have to shift operations to protect public safety during the heat wave. Activities such as running, walking or hiking during high temperatures can be extremely dangerous and even deadly.
This week California has been experiencing excessive heat, with temperatures across the state reaching 10 to 20 degrees above normal. The forecast for today, this Labor Day weekend and through next week indicates more dramatic high temperatures.
Severe heat is dangerous to everyone and can be fatal, especially when temperature extremes last more than a couple of days. A high body temperature can damage the brain and other vital organs, according to the California Department of Public Health. Some health conditions can make it harder for the body to stay cool in hot weather. These include old age, obesity, fever, dehydration, heart disease, poor circulation, sunburn and drug and alcohol use.
To prevent a heat-related illness when recreating in the outdoors, follow these important steps to stay safe:
Know Before You Go – Prior to leaving home, check the status of the park unit you want to visit to find out what restrictions and guidelines are in place. This is important, as State Parks may temporarily shift operations to protect public safety during the heat wave. Also, have a backup plan in case your destination is crowded.
Play It Safe – Plan activities during cooler parts of the day. Stay in the shade, especially during the sun's peak hours. Activities such as running, walking or hiking during high temperatures can be extremely dangerous and even deadly.
Dress and Prepare for the Weather – Dress in loose, lightweight and light-colored clothing. Shield yourself from the sun with hats, sunglasses and sunscreen.
Hydrate – Drink plenty of water. Avoid alcoholic and caffeinated fluids, as they can dehydrate you.
If Heading to a Waterway to Cool Off –

Swim in designated areas. Not all beaches along the California coastline are recommended for swimming or wading. Pay attention to advisories from the weather service and signs posted at park units alerting the public of dangerous situations. Click here for additional swimming tips.
Learn about rip currents. If caught in a rip current, stay calm and do not fight it. Escape the current by swimming parallel to shore. When free of the current, swim away from the rip at an angle toward shore. If you feel you will be unable to reach shore, draw attention to yourself by facing the shore and calling and waving for help. View more
Wear a life jacket. This simple action can increase your chances of survival if you are involved in a water-related accident. Click here to view where you can borrow a life jacket.
Actively supervise children. Accidents can happen quickly. Designate a water watcher to actively supervise children when recreating near or in the water.
For additional safety tips, visit Parks.ca.gov/SafetyTips and the California Governor's Office of Emergency Services website, and see California Department of Public Health press release "Public Health Officials Urge Californians to Stay Informed and Protect Themselves During Heat Wave." Visit BoatCalifornia.com for more general boating safety information.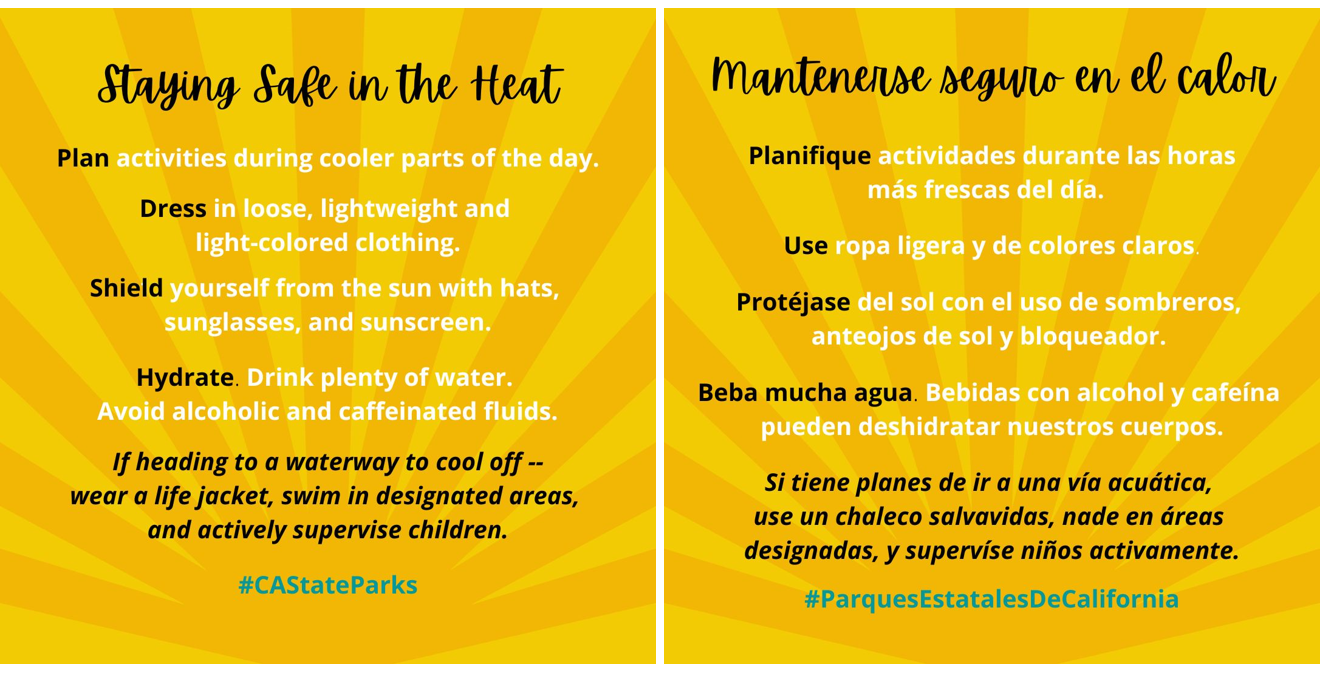 Key safety tips from California State Parks to stay safe in the heat in English and Spanish.
---
Subscribe to California State Parks News via e-mail at NewsRoom@parks.ca.gov
California State Parks provides for the health, inspiration and education of the people of California by helping to preserve the state's extraordinary biological diversity, protecting its most valued natural and cultural resources, and creating opportunities for high quality outdoor recreation.