For Immediate Release: 9/1/2022
Division of Boating and Waterways Urges Boaters and Water Enthusiasts to Put Safety First this Labor Day Weekend
Contact:
newsroom@parks.ca.gov

Using life jackets and staying safe during the heat wave will be critical.

SACRAMENTO, Calif. – As the unofficial end of summer approaches, California State Parks' Division of Boating and Waterways (DBW) reminds boaters and water enthusiasts to recreate responsibly to prevent tragedy for you and your loved ones.
"Boaters are encouraged to take extra precautions this holiday weekend to ensure a safe and fun time on California's waterways," said DBW Deputy Director Ramona Fernandez. "During hot summer days, many people flee to lakes, rivers and the ocean to cool off. Stay safe by avoiding strenuous activities during the heat wave. Plan outdoor activities during cooler parts of the day. Also, remember to wear a life jacket to increase your chances of surviving a water-related accident."
DBW has five simple tips to help you and your loved ones stay safe:
Stay Safe During Heat Waves

Avoid strenuous activities during the day or plan them early in the morning or evening.
Dress in loose, lightweight, light-colored clothing.
Shield yourself from the sun with hats, sunglasses and sunscreen.
Hydrate. Drink plenty of water and non-alcoholic and decaffeinated fluids. These drinks can dehydrate your body.



Always Wear a Life Jacket
Life Jackets are the easiest way to prevent drowning and increase your chances of survival if you are involved in an accident. All children under 13 are required to wear life jackets on a moving vessel by California law and DBW urges everyone on a vessel, regardless of age, to always wear a life jacket as a preventative measure. According to U.S. Coast Guard statistics in 2021 where cause of death was known, 83% of drowning victims in recreational boating accidents did not wear a life jacket. By law, you are required to have one serviceable life jacket on board the vessel for every person onboard. If you are involved in an accident it may be too late to put your life jacket on, so it's always best to wear your life jacket while aboard a moving vessel.

Paddle sports, including stand up paddleboards and kayaks, are considered vessels and the same life jacket rules apply to people aboard the paddle craft. You are required to wear a life jacket on a personal watercraft, also known as a jet ski, regardless of age.

Ensure each life jacket is US Coast Guard-approved, the right fit for the user, and approved for the intended activity by checking the label. The label can be found on the inside of each life jacket.
Designate a Water Watcher
Actively supervise children when recreating near or in the water. Designate a responsible adult to be the designated water watcher. This person must not drink alcohol and not have any distractions while watching children in the water. If anyone near the water is not a proficient swimmer, make sure that they are wearing a properly fitted life jacket. Recreating in the ocean, rivers, and lakes is very different than pools.


Leave the Alcohol on Shore
Boating and alcohol do not mix and boating under the influence is illegal. Consuming alcohol negatively impacts vision, balance and reaction times and can cause dehydration. The effects of alcohol are heightened on the water with environmental stressors such as wind, noise, and vibrations of the boat. Tragedy can be avoided when boaters choose not to drink while boating.


Get Educated
Statistics show boater education helps prevent accidents. Take a safe boating course and get your California Boater Card today. It is the law for all operators of motorized vessels 45 years and younger to carry one while operating a vessel. Learn more about the California Boater Card at CaliforniaBoaterCard.com.

Protect your loved ones and have a fun and safe Labor Day weekend. Visit BoatCalifornia.com for more general boating safety information and Parks.ca.gov/SafetyTips.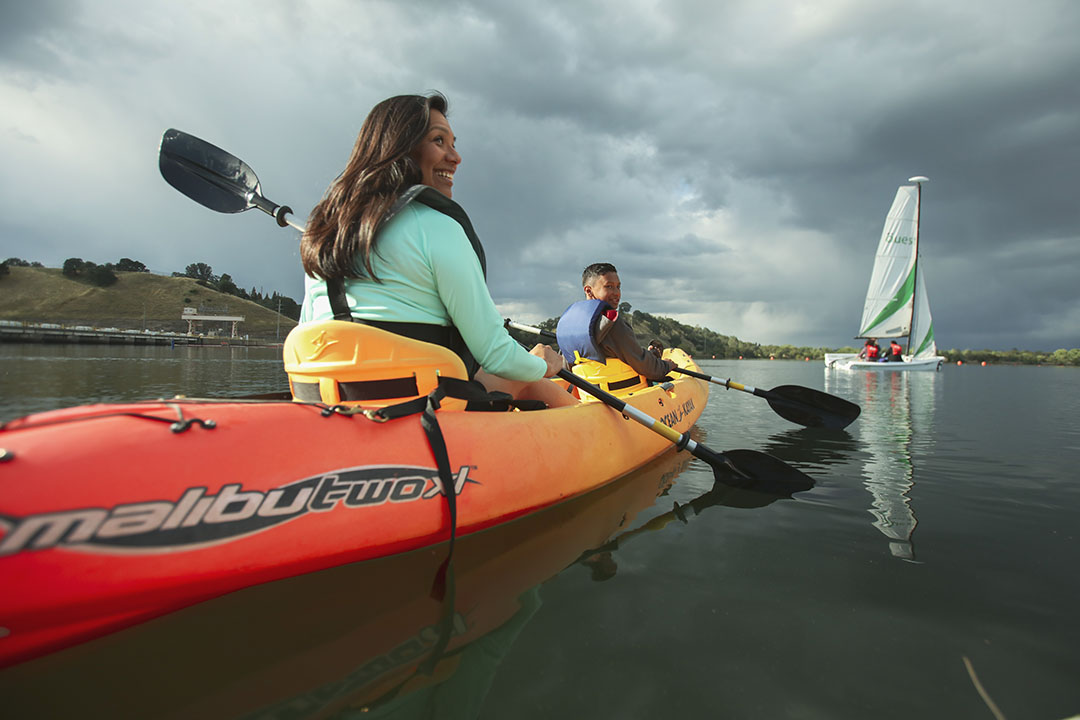 Kayakers at Lake Natoma, Folsom Lake State Recreation Area. Photo from Division of Boating and Waterways.
---
Subscribe to California State Parks News via e-mail at NewsRoom@parks.ca.gov
California State Parks provides for the health, inspiration and education of the people of California by helping to preserve the state's extraordinary biological diversity, protecting its most valued natural and cultural resources, and creating opportunities for high quality outdoor recreation.