For Immediate Release: 3/25/2021
HistoriCorps Helps Breathe New Life into IOOF Hall at Marshall Gold Discovery State Historic Park
Contact:
Jerrie Beard
(530) 295-2174
COLOMA, Calif.—California State Parks is working with HistoriCorps to restore the community hall built by the Independent Order of Odd Fellows (IOOF), one of the oldest fraternal organization buildings in the state. The IOOF Hall is located at Marshall Gold Discovery State Historic Park in Coloma, California, where gold was first discovered in 1848.
Over the next few weeks, volunteers with HistoriCorps, a 501(c)(3) nonprofit, will be fixing the dilapidated clapboard siding, priming and painting the exterior of the building, and performing other work to make the building safe and functional.
Here's some background on this historic building:
The Coloma Lodge #27 of the IOOF was organized on August 21, 1854, and the hall was built in the same year.
The Greek-revival style building is among the oldest IOOF halls in El Dorado County and stands as one of the oldest fraternal halls in California.
The IOOF Community Hall played host to IOOF Coloma Lodge #27, the Rebekah's, the Masons and the Grange, community breakfasts and meetings, plus the Baptist Church, a Baptist and Methodist Sunday School and served as the school in 1919 when the schoolhouse was destroyed by fire.
California State Parks acquired the property in 1959.
The building has been closed for several years for safety reasons.
California State Parks recently allocated funds to begin the process of cleaning up and restoring the building.
HistoriCorps has been working with California State Parks for many years, most recently at Bodie and Monterey State Historic Parks. Volunteers work with HistoriCorps field staff to learn preservation skills and put those skills to work saving historic places on public lands across America. HistoriCorps works to ensure America's cultural and historical resources will exist for generations to come.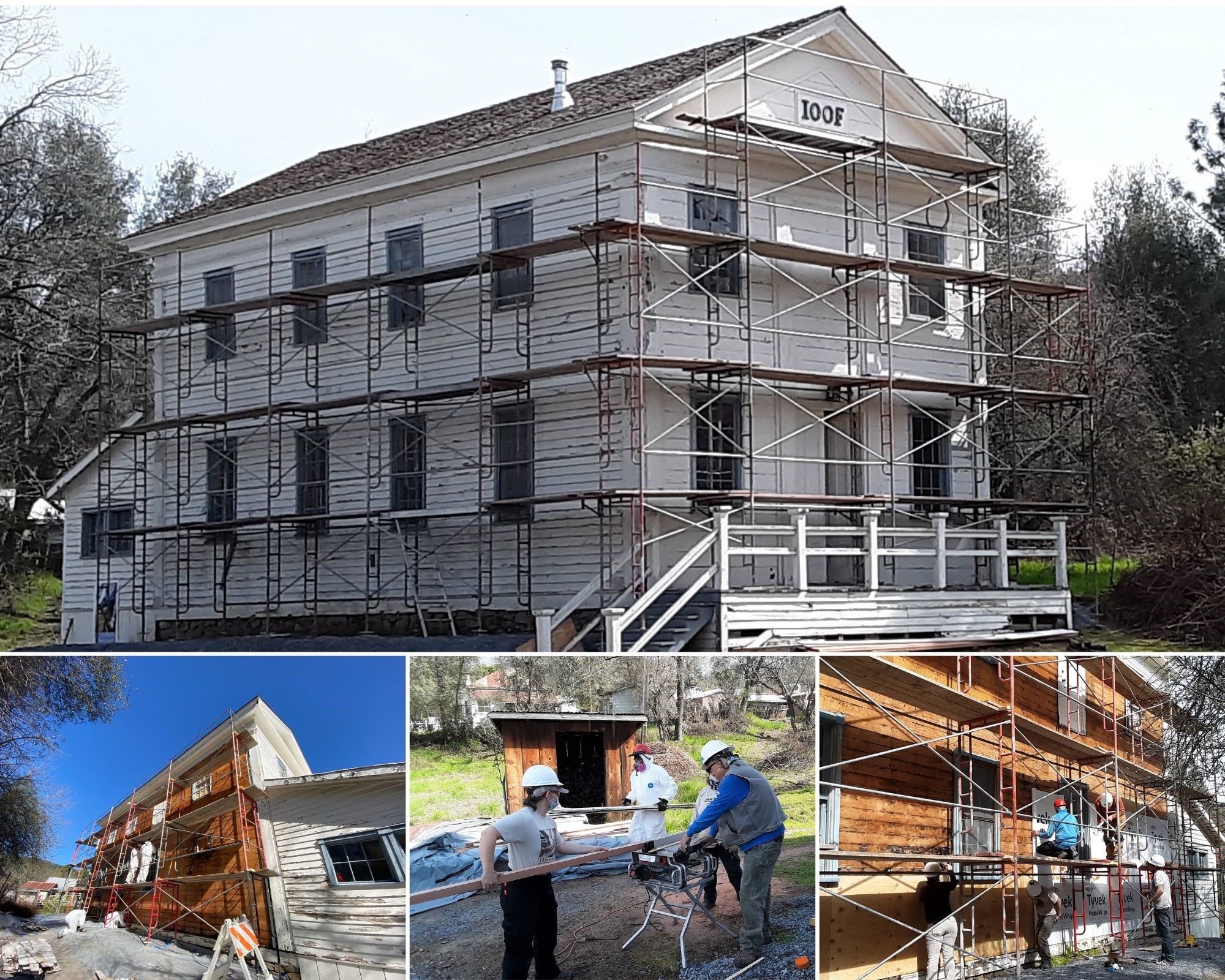 Restoration work on the Independent Order of Odd Fellows (IOOF) Hall at Marshall Gold Discovery State Historic Park. Photos from California State Parks.
---
Subscribe to California State Parks News via e-mail at NewsRoom@parks.ca.gov
California State Parks provides for the health, inspiration and education of the people of California by helping to preserve the state's extraordinary biological diversity, protecting its most valued natural and cultural resources, and creating opportunities for high quality outdoor recreation.