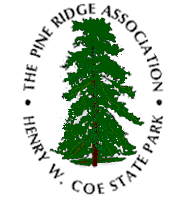 The Pine Ridge Association (PRA) was formed in 1975 to assist park staff at Henry W. Coe State Park in designing interpretive and educational programs and presenting the programs to the public.

Association activities include guided walks, evening programs in the Visitor Center, and annual events such as the Mother's Day breakfast, the Coe Backcountry Weekend, and the fall TarantulaFest.

The Association publishes a newsletter (The Ponderosa), maps, interpretive leaflets and books, and free informational handouts about Coe Park.

The PRA is an official cooperating association with California State Parks. For more information or to join, visit the
Pine Ridge Association website.

---
Pine Ridge Association
9100 East Dunne Avenue
Morgan Hill, CA 95037
TEL 408-779-2728 / FAX 408-778-5749