Antelope Valley Indian Museum State Historic Park
Update (April 27, 2021)
: As State Parks increases access to the State Park System, it is critical that Californians continue to recreate responsibly in the outdoors as the pandemic is not over.
Please take the time to read the information contained on this webpage to find out what is open and the COVID-19 guidelines for this park unit.
What is open now?
The Antelope Valley Indian Museum is open to the public on Saturdays and Sundays from 11:00 AM to 4:00 PM.
In order to comply with new COVID-19 safety rules:

Face coverings will be required to enter the museum.
Visitor groups are limited to household groups only. Gatherings and events are not permitted.
Only 6 household groups will be allowed inside the museum at one time (one per gallery). Please be prepared to wait in line outside for your turn.
View the complete list of new COVID-19 rules. Link to new COVID-19 rules: http://avim.parks.ca.gov/Documents/AVIM%20COVID%20Rules%20for%20Visitors.pdf
What is currently closed throughout the State Park System?
Statewide:
Some park units and campground sites continue to be temporarily closed due to the pandemic, impacts from wildfires or other issues. Please visit the webpage of your local outdoor destination to find out if it is open.
Special events and tours continue to be canceled until further notice.
Are there any additional visitor guidelines?
State Parks has implemented the following guidelines to reduce the risk of exposure to COVID-19 in the outdoors:
Plan Ahead:

The ongoing pandemic response continues to be dynamic and fluid. Prior to leaving home, check the webpage of your outdoor destination you plan to visit to find out if it is open, if parking is available, and what visitor guidelines are in effect.
Learn what safety precautions you should take when exploring the outdoors at parks.ca.gov/SafetyTips.

Stay Safer at Six Feet: No matter the recreational activity, maintain a physical distance of six feet or more. Your guests should only include those within your immediate household. This means no guests or friends, and no gatherings or parties. If there are too many people to maintain the required physical distance, please visit us on a different day.

Boating: Do not raft up to other boaters or pull up onto a beach next to other recreators.
Off-highway Vehicle Recreation: Do not ride next to others or pull up next to someone else as it could put you in close proximity to others. Stage 10 feet or more from each other during unloading and loading.

Keep Clean: Be prepared as not all services may be available. Some restrooms will be temporarily closed to keep up with cleaning schedules. Bring soap/hand sanitizer. Please pack out all trash. Park units are experiencing heavy use and you can help alleviate the impact on park facilities.
Stay Covered: The state requires you to wear a face covering when you cannot maintain a physical distance of six feet or more. Individuals must have a face covering with them at all times.
Although law enforcement entities have the authority to issue citations, the expectation is that the public is responsible for adhering to the advice of public health officials, visitor guidelines and closures.
California State Parks continues to work with local and state officials on a phased and regionally driven approach to increase access to state park units where compliance with state and local public health ordinances can be achieved. However, the situation remains fluid and park operations can change at any time. For information on statewide current closures and available services, please visit
parks.ca.gov/FlattenTheCurve
.
Phone Number
(661) 946-3055
Driving Directions to Antelope Valley Indian Museum SHP
The museum is located in northeastern Los Angeles County. It is 19 miles east of the Antelope Valley Freeway (State Highway 14), at 15701 East Avenue M in Lancaster. Go East on Avenue K to 150th Street East, go south on 150th for 2 miles. Turn left on Ave. M, and go east for 1 mile to the museum. Or exit Pearblossom Highway (138) at 165th Street East and travel north. Bear right as 165th turns into 170th Street East. Continue north on 170th to Avenue M. Turn left on Avenue M, and go west for 1 mile to the museum.


Online reservations are not available for this park.
Upcoming Park Events
No events scheduled at this moment.
TRAIL USE
Hiking Trails

DAY-USE ACTIVITIES & FACILITIES
Historical/Cultural Site
Picnic Areas
Env. Learning/Visitor Center
Exhibits and Programs
Guided Tours
Interpretive Exhibits
Nature & Wildlife Viewing
Museums
Family Programs

OTHER FACILITIES & VISITOR INFORMATION
Parking
Restrooms
Drinking Water Available
Wheelchair Accessible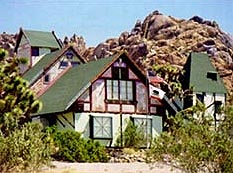 Antelope Valley Indian Museum State Historic Park is California's State Regional Indian Museum representing Great Basin Indian Cultures. The exhibits and interpretive emphasis are on American Indian groups (both aboriginal and contemporary) of the Southwest, Great Basin, and California culture regions, since Antelope Valley was a major prehistoric trade corridor linking all three of these culture regions. The museum contains the combined collections of founder Howard Arden Edwards and subsequent owner Grace Oliver. A number of the cultural materials on display are rare or one-of-a-kind objects. To view the entire museum collection, and access detailed interpretive information on American Indian cultures represented, please go to avim.parks.ca.gov.

The museum was originally constructed by homesteader/artist H. Arden Edwards in 1928. The chalet-style structure was built over an entire rock formation of Piute Butte in the Mojave Desert. The museum offers the visitor a unique experience.
Have you visited the museum recently? Please complete a short visitor survey here.
Park History
The Antelope Valley Indian Museum has been a public museum since 1932, but it has also been a homestead, a theater, a dude ranch, a Hollywood set, and an attraction. It is situated on 147 acres of desert parkland on the south side of Piute Butte in the Mojave Desert against a dramatic backdrop of Joshua trees and towering rock formations. The building's unique architecture and creative engineering earned it a spot on the National Register of Historic Places, and the Native American Heritage Commission designated Piute Butte as a sacred landscape.

The Collection
The museum exhibits over 3,000 objects, including many rare and outstanding objects from the Antelope Valley, California coast, Great Basin, and the Southwest. An important four way trade route developed in the Antelope Valley at least 4,000 years ago. The trade routes went west and south to the California coast, north to the Central Valley, northeast to the Great Basin (the desert east of the Sierra Nevada Mountains), and east to the pueblos in what is now Arizona, New Mexico, and Mexico. The trade route expanded and enriched the material and social resources available to Antelope Valley residents, allowing large villages to develop near the valley's springs.

History of H. Arden Edwards
Howard Arden Edwards, a self-taught artist, was fascinated with the scenery around the buttes in the Antelope Valley. He homesteaded 160 acres on rocky Piute Butte and in 1928. With his wife and teenage son, he began construction of what was to be a combination home and showcase for his extensive collection of American Indian culture. A unique structure evolved: a Tudor Revival style building, decorated inside and out with American Indian designs and motifs, incorporating large granite boulders as an integral part of the building both inside and out. You actually climb upon these rocks as you go from picturesque Kachina Hall upstairs to California Hall. This unusual upper level housed Mr. Edwards' original "Antelope Valley Indian Research Museum."

History of Grace Oliver
Grace Wilcox Oliver, a onetime student of anthropology, discovered Edwards' property while hiking in the desert. She felt it would be a perfect setting for a personal hideaway. She contacted the owner with an offer to buy the property. Successful in these negotiations, she modified some features of the main building, added her own collections, and expanded the physical facilities on the property. By this time she had decided to open the entire structure as The Antelope Valley Indian Museum. Grace operated the museum intermittently through the 1940s, 50s, 60s & 70s.

Becoming a State Park
Local support for the acquisition of the property by the State of California led Oliver to sell the land and donate the collection to State Parks in 1979. The museum has been designated as a Regional Indian Museum, emphasizing American Indian cultures of the Great Basin.
Park Features
The park also features a picnic area, historic grounds, historic cottages (not open to the public), and an outdoor ceremonial arena. Around the museum is a 1/2 mile self-guided nature trail; the brochure is available here or in the gift shop. Food is not available for purchase at the park.

The park and museum are open Saturday-Sunday year-round, 11 a.m. - 4 p.m., or for group tours on Thursdays with advance reservations.

Accessibility: The museum has accessibility ramps to all levels. An all-terrain wheelchair (manually operated) may be checked out for use on the nature trail.
Special Events
Our Annual American Indian Celebration is the third weekend of October every year, featuring a traditional ground blessing ceremony, American Indian traditional dancing and music, Indian artists demonstrating and selling their work, Navajo tacos, and special activities for children.

Every December, in celebration of the museum's homestead origins, visitors can enjoy a chili cook-off and live acoustic music at Holidays on the Homestead. The historic grounds are decorated in vintage holiday style, with cowboy poetry sung around a campfire, tours of the grounds, a country craft boutique, and real cowboy coffee brewed over the fire.

The museum also sponsors periodic visiting artists, exclusive hikes, and evening events.

The calendar of upcoming events can be found at http://avim.parks.ca.gov/calendar.shtml and on our Facebook pages at www.Facebook.com/AVIndianMuseum, and www.Facebook.com/IndianMuseumFriends.
Location - Directions
The museum is located in northeastern Los Angeles County. It is 19 miles east of the Antelope Valley Freeway (State Highway 14), at 15701 East Avenue M in Lancaster. Go East on Avenue K to 150th Street East, go south on 150th for 2 miles. Turn left on Ave. M, and go east for 1 mile to the museum. Or exit Pearblossom Highway (138) at 165th Street East and travel north. Bear right as 165th turns into 170th Street East. Continue north on 170th to Avenue M. Turn left on Avenue M, and go west for 1 mile to the museum.
Latitude/Longitude: 34.7506 / -118.3583

Seasons/Climate/Recommended Clothing
The weather can be changeable. Layered clothing is recommended.
Social Feed