William Randolph Hearst Memorial Beach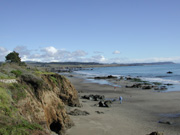 The beach is located near the old historic town of San Simeon along Highway 1 and gives visitors the opportunity to hike, swim, and sunbathe. A popular beach spot, the protected cove also offers visitors recreational opportunities such as beach exploration, boating, ocean kayaking,and pier fishing*. This day use area offers several picnic sites with tables, standing barbecue grills, water spigots, restrooms, and plenty of parking spaces with easy access to the beach.
*Fishing licenses are not required when fishing from the pier, but limits are enforced.
During the winter months, a small number of northern elephant seals may appear on the beach and shoreline. Please be respectful and give these animals plenty of space to rest. Dogs must also be leashed and kept a safe distance away from the seals. Wildlife harassment laws are enforced. For more information on proper wildlife viewing practices, visit National Marine Sanctuaries Marine Wildlife Viewing Guidelines.
Location-Directions
The beach is located directly across Highway 1 from the Hearst Castle Visitor Center.
Hearst Castle is located on Highway 1, about halfway between San Francisco and Los Angeles. Driving time from either city is four to six hours, depending on traffic and road conditions. For more California visitor information, please Request Free California Official Visitor's Guide Service Details | www.ca.gov.
Seasons/Climate/Recommended Clothing
In general, San Simeon's climate is very mild. Summer temperatures range from the high 50s to low 90s F, while winters range between the low 40s and high 60s F. The average rainfall is 22 inches annually, with most of the precipitation occurring in winter and spring from November to April. During the winter months fog is common along the coast, but normally burns off by late morning. However, a sweatshirt or sweater and light windbreaker can greatly increase the comfort level on foggy mornings and cool evenings.