Lighthouse Field State Beach
Phone Number
(831) 423-4609
Dogs Allowed?
Yes
Dogs not allowed on beach.
Driving Directions to Lighthouse Field SB
The beach is on West Cliff Drive in downtown Santa Cruz.


Online reservations are not available for this park.
No online brochures available for this park.
Upcoming Park Events
No events scheduled at this moment.
TRAIL USE
Bike Trails
Hiking Trails

DAY-USE ACTIVITIES & FACILITIES
Historical/Cultural Site
Fishing
Interpretive Exhibits
Beach Area
Vista Point
Nature & Wildlife Viewing
Geocaching

OTHER FACILITIES & VISITOR INFORMATION
Parking
Restrooms
Outdoor Showers
Drinking Water Available

Winter Storm Closures
Due to extensive damage sustained during recent winter storms, many state parks in Santa Cruz and San Mateo Counties are fully or partially closed. Staff are currently assessing the condition of the parks for reopening.

Parks that are fully closed include Big Basin Redwoods State Park, Portola Redwoods State Park, and Butano State Park.

Parks that are partially closed include Henry Cowell Redwoods State Park (Fall Creek subunit, various trails, and parking lots closed except main parking lot at visitor center), Wilder Ranch State Park (most trails closed; historic complex and Old Cove Landing Trail open), Seacliff State Beach (lower parking lot, picnic areas, and campground closed; visitor center open and pedestrian and bicylist access only at beach level), The Forest of Nisene Marks State Park (closed beyond Winter Gate; Aptos Creek Fire Road inaccessible by vehicle between Margaret's Bridge and old slide), and the Rancho del Oso subunit of Big Basin (East side access to the Nature Center is closed. West side is open from the yellow gate to the horse camp parking lot; Marsh Trail is open from horse camp parking lot to the creek. Waddell beach parking lot is also open.)
Please be advised, Lighthouse Field SB is one of the few California State Parks that does not accept the Annual Day Use Pass.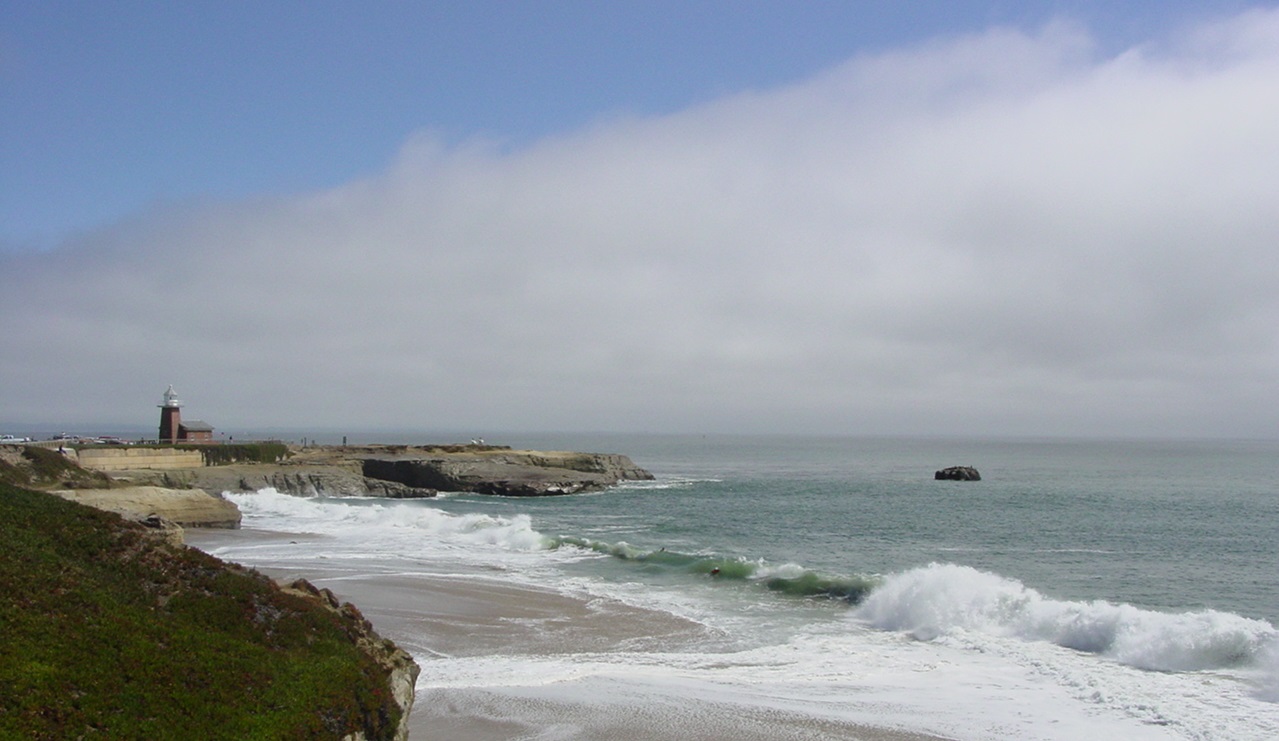 Also known as Point Santa Cruz, this area forms the northern boundary of Monterey Bay. It is one of the last open headlands in any California urban area. Surfers, tourists, birds - including the rare Black Swift and wintering Monarch butterflies are drawn to this area. Sea lions populate the offshore rocks.

This is one of the places where Monarch butterflies winter along the California coast. Monarchs are unique because they migrate each winter to avoid freezing weather. The Monarchs wintering here, come from west of the Rocky Mountains. Monarchs east of the Rockies go to central Mexico for the winter.

Lighthouse Field State Beach has the distinction of being home to California's first surfing museum. The Santa Cruz Surfing Museum is in the Mark Abbott Memorial Lighthouse at Lighthouse Point on West Cliff Drive. Overlooking internationally renowned surfing hotspot Steamer Lane, this museum has photographs, surfboards, and other interesting items tracing over 100 years of surfing history in Santa Cruz.

Among many noteworthy community events, Lighthouse Field State Beach hosts "Caroling Under the Stars" each Christmas, a Santa Cruz tradition which attracts hundreds of locals and visitors.