Schooner Gulch State Beach
This park unit is partially open.
Please take the time to read the information contained on this webpage to find out what is open and closed, and what COVID-19 guidelines are in place. - (May 27, 2021)
What is open now?
Parking lots.
Day use areas.
Beaches and trails.
Special events as directed by the guidelines in the Blueprint for a Safer Economy.
---
COVID-19 Guidelines - (February 16, 2022)
Recreate Responsibly
Protect yourself, family, friends and your community by following these prevention measures:
Know Before You Go – Prior to leaving home, check the status of the park unit you want to visit to find out what restrictions and guidelines are in place. Have a back-up plan in case your destination is crowded. Stay home if you are sick
Plan Ahead – Some restrooms will be temporarily closed to keep up with cleaning schedules. Bring soap/hand sanitizer.
Play It Safe – Find out what precautions you should take when exploring the outdoors, especially if this is your first time visiting the State Park System. Learn more at parks.ca.gov/SafetyTips.
Be COVID-19 Safe – State Parks continues to meet guidance from local and state public officials as COVID-19 is still present and still deadly. Effective March 1, 2022, state guidance recommends that all individuals, regardless of vaccine status, continue masking in indoor settings, such as museums and visitor centers. Universal masking remains required in specified high-risk settings. Please plan ahead as local county guidelines may differ from state guidance and visitors are urged to follow county guidelines when required. Read the latest COVID-19 guidance at COVID19.ca.gov.
Leave No Trace – Leave areas better than how you found them by staying on designated trails and packing out all trash. Do not disturb wildlife or plants.
Phone Number
(707) 937-5804
Driving Directions to Schooner Gulch SB
The state beach is located three miles south of Point Arena, where Schooner Gulch Road intersects State Highway 1.


Online reservations are not available for this park.
No online brochures available for this park.
Upcoming Park Events
No events scheduled at this moment.
BOATING
Boating

TRAIL USE
Hiking Trails

DAY-USE ACTIVITIES & FACILITIES
Fishing
Scuba Diving/Snorkeling
Beach Area
Windsurfing/Surfing
Geocaching

No Drones Allowed in Park
The noise and sight of drones can alter other people's enjoyment of nature
A drone hovering nearby can feel intrusive and threatening.
Drones can capture photographs and video without someone's permission
Drones mimic the behavior of predatory birds and can frighten wildlife
For these reasons State Park units in the Sonoma-Mendocino Coat District do not allow launching, landing or the operation of drones on State Park property.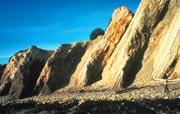 The beach and headlands preserve a scenic spot along the Mendocino Coast and offers a stunning perch for watching sunsets, or merely sitting in the grass as the afternoon sun glistens on the waters below. Fishing, picnicking, and surfing are popular activities here.

A small parking area with two trailheads is on the west side of the highway. The southern trail leads to Schooner Gulch Beach.
Location/Directions
The state beach is located three miles south of Point Arena, where Schooner Gulch Road intersects State Highway 1.

Seasons/Climate/Recommended clothing
The weather can be changeable; layered clothing is recommended.

Facilities - Activities
Historically, Schooner Gulch is within the territory of the coastal branch of the Central Pomo Indians which extends from the mouth of the Navarro River to the mouth of the Gualala River.

This area was frequented by Russians and native Alaskan hunters as early as 1812, and by Mexican land owners in the 1840's.

John Galloway was the first recorded occupant of the area. John was born in Scotland and occupied an area of Schooner Gulch between 1866 and 1868, which was largely used as a milling operation for timber. Logging continued at Schooner Gulch until the late 1800's, through various other milling operations.

Another interesting part of the history of Schooner Gulch is the Galloway School. The school land was donated by John and Margaret Galloway. Galloway School operated for 62 years, from 1874 to 1936 with never more than 40 students. In 1940 the school lot was sold, and land around the lot was farmed by the Nobles family until 1986 at which time the land was sold to the State of California.

Legend has it that Schooner Gulch got its name from a story in which a schooner was sited, one evening, stranded on the beach in the mouth of the gulch, yet in the morning showed no evidence of being there.
Schooner Gulch State Beach
Geologic oddities at Schooner Gulch State Beach have arisen from unusual combinations of unrelated geologic conditions. Once such example is Bowling Ball Beach where concretions (odd enough in their own right), tilted outcrops of alternating hard and soft strata (not unusual), and wave erosion along the coastline (very common) combine to create a very unusual spectacle. Fortunately, the State of California values these treasures and protects them for all to see in their natural setting.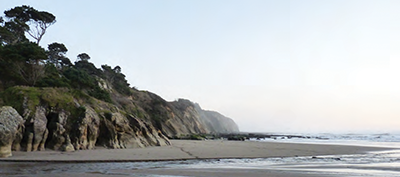 (Photograph by Jennifer Lotery)