Montgomery Woods State Natural Reserve
Ongoing trails project currently underway at Montgomery Woods, parking will be limited, please park responsibly.
Phone Number
(707) 937-5804
Driving Directions to Montgomery Woods SNR
Located about 15 miles east of the town of Comptche, on a hard-packed gravel road. It can also be reached over 13 miles of paved road by traveling west from Ukiah past Orr's Mineral Hot Springs resort.


Online reservations are not available for this park.
Upcoming Park Events
No events scheduled at this moment.
TRAIL USE
Hiking Trails

DAY-USE ACTIVITIES & FACILITIES
Picnic Areas
Nature & Wildlife Viewing
Geocaching

OTHER FACILITIES & VISITOR INFORMATION
Parking
Restrooms

No Drones Allowed in Park
The noise and sight of drones can alter other people's enjoyment of nature.
A drone hovering nearby can feel intrusive and threatening.
Drones can capture photographs and video without someone's permission.
Drones mimic the behavior of predatory birds and can frighten wildlife.
For these reasons State Park units in the Sonoma-Mendocino Coast District do not allow launching, landing or the operation of drones on State Park property.
Montgomery Woods State Natural Reserve
Head to the heart of the Coast Range and step into the majesty of Montgomery Woods State Natural Reserve. You'll find a world rich in solitude, silence, and remarkable groves of coast redwoods. A 367.5-foot redwood at Montgomery Woods was once thought to be the tallest tree in the world. Taller trees have since been found in Humboldt Redwoods State Park and Redwoods National Park, but Montgomery Woods is still noted for its lofty giants. A two-mile-long loop trail leads, steeply at first, on a rewarding tour. A nine-acre donation by Robert Orr in 1945 started the reserve, which has been enlarged to 2,743 acres by purchases and donations from Save the Redwoods League.
The reserve is open for day use only—no camping allowed.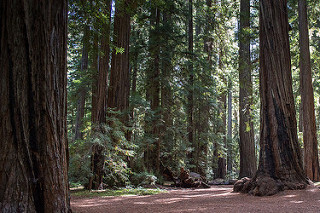 Things To Do
The two-mile-long Montgomery Trail takes an hour or two to hike. Its steep 0.3-mile start and finish has about a 200-foot elevation gain. In wet weather, the trail can be muddy or flooded. Nice picnic sites lie near the parking area and along the trail. There is no visitor center, and camping is not allowed.
If you have an hour, hike one-third mile (on a steep incline) on the Montgomery Trail to the majestic Kellieowen Grove. Picnic beside the Montgomery Creek.
If you have half a day, hike the entire two miles of Montgomery Trail to see the creek, the lush fern forests, and many groves of awe-inspiring redwoods.
Accessibility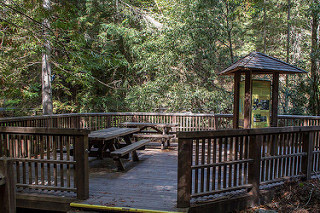 The restroom, interpretive panels, and shaded picnic tables at the park entrance are accessible. The beginning of the natural reserve's unpaved trail may be too steep for many wheelchair users. Accessibility in parks is continually improving. For updates, click the Accessible Features link at the top right of this page.
Location/Directions
Montgomery Woods lies 32 miles southeast of Mendocino or 13 miles northwest of Ukiah on twisty Orr Springs Road, past Orr's Mineral Hot Springs resort. The Reserve is located about 15 miles east of the town of Comptche.
Seasons/Climate
The weather can be changeable. Summer temperatures can reach the high 80s in July, while in winter, they can dip below 40 degrees. Rain often falls between November and April.
Please Remember
The reserve and its natural and cultural resources are protected by state law and may not be disturbed.
Firearms and hunting are prohibited.
Except for service animals, pets are not permitted on the trail or in the reserve.
Stay on the trail to avoid poison oak and to protect vegetation.
The center of the reserve contains a marshy flat, which attracts mosquitoes.