Huntington State Beach Junior Lifeguards

---
California State Parks Junior Lifeguard Program
The Junior Lifeguard Program emphasizes Teamwork, Leadership, and Aquatic Safety while introducing young people to safe marine and aquatic recreation opportunities. The program is designed to provide quality water safety education while improving young people's physical conditioning, their understanding and respect for the environment, and their respect for themselves, their parents, and their peers. Participants must complete a certified tryout prior to registration.
Huntington State Beach Junior Lifeguards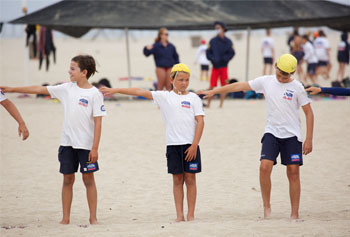 The Huntington State Beach Junior Lifeguard Program is a four-week (two sessions per summer) open ocean recreation and education program that takes place at Huntington State Beach. The program meets on weekdays from 9am-3pm between towers 10 and 11 (see map for exacteets on weekdays from 9am-3pm between towers 10 and 11 (see map for exact program location). This program is offered to participants ranging in age from 9 years old – 15 years old.
We are also offering an introductory program for participants aged 6-8 years old. The "Grom Program" is offered in 3 week sessions and the daily hours are 9am-1pm.
The aim of our program is to provide a safe place where participants can be instructed in a variety of skills pertaining to the lifeguarding profession and the aquatic environment. Instructors will introduce participants to basic CPR skills, first aid, lifesaving competition, rescue techniques, and lifeguarding procedures. Ocean recreation is also a fundamental component of the program. An interpretive component provides information about the ocean habitats and local ecosystems.
2023 Tryouts and Session Dates
2024 TRYOUT DATES: NO REGISTRATION NEEDED FOR TRYOUTS
Tryout 1: TBD
Tryout 2: TBD
Tryout 3: TBD
TRYOUT REQUIREMENTS:
Grom: 50 yards under 1:35, tread water for 3 minutes, ability to swim under water
9-10 years: 100 yards under 2:10, tread water 5 minutes, 10 yards under water
11-12 years: 100 yard under 2:00, tread water 5 minutes, 10 yards underwater
13-15 years: 100 yards under 1:50, tread water 5 minutes, 10 yards underwater
2024 Session Dates:
Spring Break: April 1st - April 5th (Mon-Fri 9am-3pm)
JUNIOR LIFEGUARD PROGRAM 2024 (Cost is $475)
HSBJG Session One

: 6/24 - 7/19

HSBJG Session Two

: 7/21 - 8/16
GROM PROGRAM 2024 (Cost is $350)
HSB Grom Camp Session 1: 2024 Dates TBD
HSB Grom Camp Session 2: 2024 Dates TBD
HSB Grom Camp Session 3: 2024 Dates TBD
Post JG Surf and Beach Camp 1

: 8/19 - 8/23 (Mon-Fri 9am-3pm)
Post JG Surf and Beach Camp 2: 8/26 - 8/30 (Mon - Fri 9am-3pm)
Fall After School Camp: Dates and Times TBD