Torrey Pines State Junior Lifeguards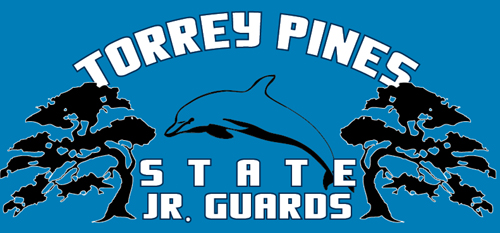 NOTE you will not see Torrey Pines listed on Reserve California till it open on May 13 at 10:00am
Junior Guards - Thursday May 13th at 10:00am.
Assistants -Friday May 14th at 10:00am
NOTE: New Junior Guards coming into Torrey Pines for the first time sign up under the session for NEW.
Returning TORREY PINES ONLY Junior Guards and Siblings coming into the program sign up under the session for RETURNING.
Assistants sign up under the session for ASSISTANTS.
Please see Registration page.
Torrey Pines Junior Lifeguard program takes place at The North Park of Torrey Pines State Beach Tower 7 off Carmel Valley Road.
The goal is to educate the community's youth ages 9-15 about ocean safety and recreation. Through extensive ocean interaction, exploration, and recreation, the Junior Guards gain a well-rounded education that can be utilized on and off the beach. By the end of the program each Junior Guard will have a heightened awareness and knowledge of the expansive Pacific Ocean and its dangerous, yet wonderful, coastline.
YOU MAY ONLY SIGN UP FOR ONE SESSION DUE TO THE POPULARITY OF THE PROGRAM!!
*Please send an e-mail to torreypinesjgs@gmail.com for any other questions or call 760 479-2000 our Carlsbad office
TAX ID # 68 0303 606

UPDATE (March 22, 2021):
Thank you for your patience, trust and continued support during the COVID-19 pandemic.
With the Regional Stay at Home Order lifted for all regions in the state, California State Parks is looking forward to welcoming participants back to its Junior Lifeguard programs this season. The department is currently evaluating how it can safely offer these programs in accordance with state and local health guidelines. Please check back soon for more information.
For the latest information and updates, please visit State Parks' COVID-19 Resource Center page online at
www.parks.ca.gov/FlattenTheCurve.
WE WOULD LIKE TO THANK THE FOLLOWING:

NIXON
THANK YOU!!


Disregard the Contact information below.