Will Rogers SHP: Visitors Can Tour Ranch of Hollywood Cowboy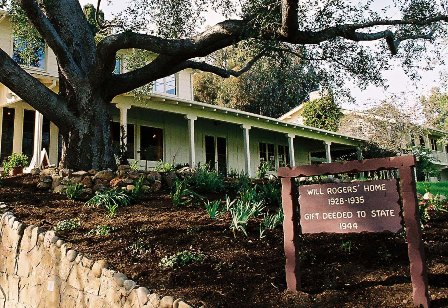 Will Rogers State Historic Park is the ranch estate of Will Rogers, the most popular and highest paid actor in Hollywood of the early 1930s.
From his start in vaudeville theater with a trick roping act, Will rose to world-wide fame as a columnist, philosopher, radio personality, and movie star. During the 1920s, he bought land in Santa Monica, where he began to develop his ranch on 186 acres overlooking the Pacific Ocean, in what is now known as Pacific Palisades.
The ranch became the place where Will Rogers could relax with his family and friends, pursuing his favorite pastimes of riding and roping.

At his untimely death in a plane crash in 1935, Will Rogers' ranch consisted of a 31-room ranch house, a stable, corrals, riding ring, roping arena, polo field, golf course, and hiking trails. When his widow, Betty Rogers, died in 1944, she wanted to make sure that Will's ranch would be available to the public as a memorial to her husband so she willed it to the state where it is now a state historical park.
Equestrians are welcome to bring their horses to Will Rogers for day-use to enjoy the Riding and Roping Arena, Sarah's Point, and the trails to Inspiration Point and the connecting Backbone Trail. Riding lessons are currently available on Monday through Saturday. Will Rogers Trail Rides provide guided trail rides on safe, reliable horses on the beautiful trails of Will Rogers State Historic Park. You can experience the park in the way Will Rogers used to love to experience it, on horseback. Will Rogers guided trail rides are available every day except Mondays. Tuesday through Fridays you can book a guided ride by calling 310-662-3707 or go online at http://www.willrogerstrailrides.com for more information. The Will Rogers Polo Club plays polo every weekend from April to October and the public is invited to watch all of the fun.
Will Rogers' Western Ranch House is on the National Register of Historic Places and contains priceless paintings and lots of western memorabilia. California State Park staff and docents offer tours of the Ranch House on Thursdays and Fridays, at 11 am, 1 pm, and 2 pm. On Saturday and Sunday, tours are from 10 am to 4pm, on the top of the hour. School group tours and special group tours are available at Will's on Thursday and Fridays at 10 am.
For more information on Ranch House tours call 310- 454-8212, ext. 103. To learn more about equestrian activities at Will Rogers State Historic Park, visit us online at www.parks.ca.gov/willrogers