Publications in Cultural Heritage: Investigations of the Carrizo Creek Stage Station
The Cultural Resources Division of the California Department of Parks and Recreation presents Publications in Cultural Heritage, No. 29, titled An Isolated Frontier Outpost: Historical and Archaeological Investigations of the Carrizo Creek Station. This volume is part of the recent renewal of the longstanding series featuring cultural resources related projects conducted within California State Parks. It presents a history of the Southern Overland Trail through Eastern San Diego County from the earliest Spanish and Mexican explorers through its establishment and use by Mexican traders, Mountain Men, conquering armies, Gold Rush immigrants, Civil War battalions and the stage coaches of the Overland Mail. Included is the site history and archaeology of Carrizo Creek, one of the most historically significant locations in the Colorado Desert.
A PDF copy of this report is now available, below. For more information about State Parks archaeological publications or to request a hard copy of the report, please email SACRF@parks.ca.gov or call 916-263-1632.
2012 Publications in Cultural Heritage, No. 29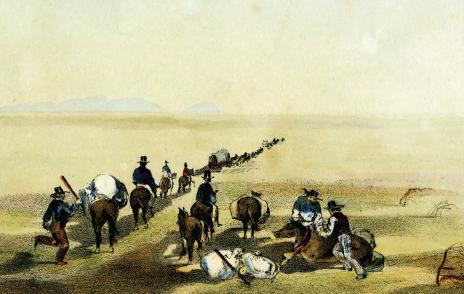 Travelling to Carrizo Creek Station