Humboldt Redwoods State Park CCC Features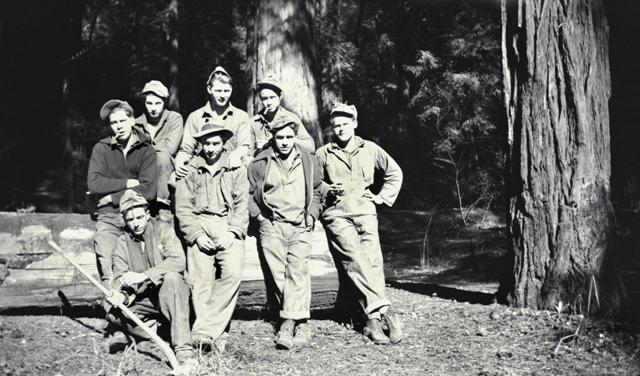 Humboldt Redwoods State Park has nearly 53,000 acres, of which over 17,000 are old growth coast redwoods. Created in 1921 with the small Bolling Memorial Grove, the park has grown over the years to include a diverse ecosystem including the entire Bull Creek watershed and the Rockefeller Forest, the largest remaining old growth redwood forest in the world.

This is the third largest California State Park and protects an environment unique to anywhere else on earth. Humboldt Redwoods has over 250 family campsites in three different campgrounds. Over 100 miles of trail await exploration by hikers, bikers, and horse riders. Some favorite locations include the Founders Grove Nature Trail, the 32 mile Avenue of the Giants Auto Tour, and the Humboldt Redwoods Visitor Center. The Visitor Center offers a wide variety of fun and educational exhibits and activities, including a theatre, displays, a bookstore, and the famous Kellogg Travel Log.

While the there was some recreational development prior to the CCC work at Humboldt Redwoods, the restructured the entrance road and expanded the facilities.

The park has many features representing the CCC development, as well as post-World War II development. There are nine areas within the park including Burlington entry/residential area, three campgrounds and a variety of camps in five named groves, and a prairie.

Humboldt Redwoods State Park has these CCC features:

Recreation Hall, Museum, Diablo Stoves and Campfire Centers
---
Park Information:

Humboldt Redwoods State Park
17119 Avenue of the Giants
Weott, CA 95571
707-946-2409
Visit Website:
http://www.parks.ca.gov/default.asp?page_id=425
---
Pictured: CCC planting crew members at Camp Humboldt Redwoods in 1935.