The San Clemente State Beach Junior Lifeguard Program is a two-week program (four sessions per summer) open ocean recreation and education program that takes place at San Clemente State Beach. The program meets on weekdays from 9am-3pm between towers 10 and 11 (see map for exact program location). This program is offered to participants ranging in age from 8 years old – 15 years old.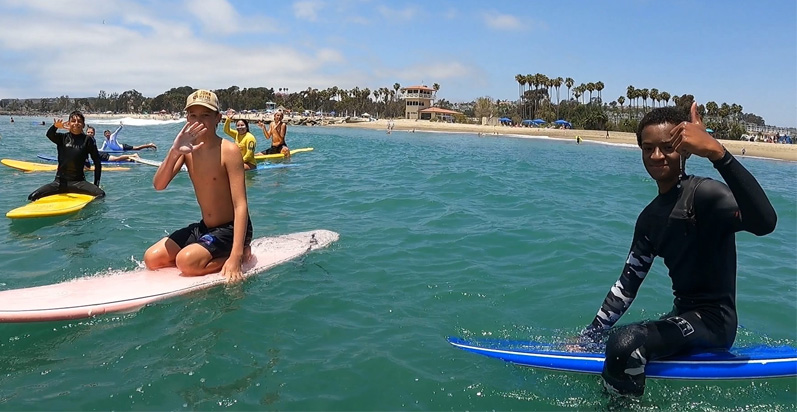 The aim of our program is to provide a safe place where participants can be instructed in a variety of skills pertaining to the lifeguarding profession and the aquatic environment. Instructors will introduce participants to basic CPR skills, first aid, lifesaving competition, rescue techniques, and lifeguarding procedures. Ocean recreation is also a fundamental component of the We also include an interpretive component that provides information about the ocean habitats and local ecosystems.
INSTRUCTORS
Our staff is made up of currently employed and fully trained California State Parks Ocean Lifeguards. All of our instructors possess an intimate knowledge of the ocean, excellent lifeguarding skills, and a great ability to interact with youths. The ratio of students to instructor is 20:1.
ACTIVITIES
Unlike other local programs which offer three hours of training, we offer six hours of instruction per day. The extra time we offer allows our program to go more in-depth in all areas of instruction. Main focuses involve general aquatic safety, team building exercises, and physical fitness. The majority of the programs content revolves around the following areas: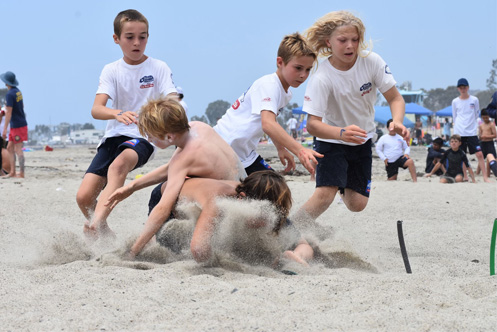 Recreation: Surfing, Bodyboarding, Dodgeball, Beach Flags, Paddle Boards, SUP, Swimming, Land Based Games
Education: CPR Skills, First Aid Skills, Mock Rescues, Victim Recognition, Beach Operations
Interpretation: Beach Hazards, Wildlife, Ocean Animals and Ocean Environments.
Competition: Activities designed to increase participation at both individual and team level (opportunities to compete against other agencies)
TO QUALIFY
The Junior Lifeguard Program is NOT a "learn to swim" school. Prospective students are screened at a tryout (see tryout link for dates and locations of tryouts) test to see if they meet the standards to enroll in the Junior Lifeguard Program. All three criteria (listed below) must be met in order to enroll in the program.
ENROLLMENT IS FILLED ON A FIRST COME FIRST SERVE BASIS. RETURNING JG'S DO NOT HAVE TO TRYOUT.
SURF AND BEACH CAMPS
The Surf and Beach camps are completely recerational based camps. Participants will engage in a number of aquatic recreation activities of the participants choices. Instructors will offer instruction in activities and supervise these activities throughout the course of the camp. Equipment is provided but for this camp participants may also choose to utlize their own equipment if desired.
(Location of this camp will be the trails at San Onofre)
TRYOUT REQUIREMENTS
Swim 100 yards under the time standard for your age:
8-9: years old: 2:30
10-11: years old: 2:15
12-15: years old: 2:00
Swim 10 yards underwater
Tread water for 5 minutes
REGISTRATION and FEES
Once tryouts are completed all registration will take place on the State Parks reservation system at Reserve California. The registration link will provide a detailed account of the registration process and a link for enrollment.
Fees for the Junior Lifeguard program are as follows: $440
Fee's listed above due not include the purchase of the uniform and are subject to change.