Prelado de los Tesoros de la Purisima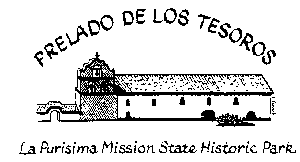 Prelado de los Tesoros (Prelado) loosely translates as "Keepers of the Treasures." Established in 1973, Prelado supports educational and interpretive programs at La Purisima Mission State Historic Park and was one of the first official cooperating associations.

Through the dedication of hundreds of volunteers, most of who are Prelado members, La Purisima mission has become famous for high quality and unique programs. The mission comes to life with docents in period dress, portraying another time as they present living history, guided tours, and community outreach programs. Prelado not only financially supports these programs, but also funds research and livestock care.

Currently, Prelado is working closely with State Park staff to raise funds for a new Visitor Center Complex. This complex will include exhibit areas and a tour staging area, a multi-purpose room, an amphitheater, a library, an archives, and larger museum store.

Prelado funds most of its activities through memberships and sales in the park. Your membership or donation will help Prelado continue to provide quality interpretive programs, build the new Visitor Center complex, and keep the historical treasures of La Purisima mission as vital educational resources.

Prelado has proven itself to be a valuable ally to La Purisima mission, the visitors and staff. Join them by becoming a member! For more information about the association and its many activities, or to become a supporter, please visit the Prelado de los Tesoros website.

---
Prelado de los Tesoros de la Purisima
2295 Purisima Road
Lompoc, CA 93436
TEL 805-733-3713