Mount Diablo Interpretive Association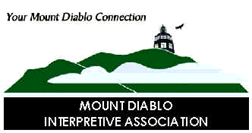 The Mount Diablo Interpretive Association supports interpretive activities at Mount Diablo State Park. The association helps park staff with interpreting the park to more than one million visitors each year.
Through funding an array of educational programs, the association fosters appreciation for and the enlightened use of Mount Diablo State Park. MDIA is proud to have played a major part in raising funds for the construction of the Museum atop the summit of Mt. Diablo and the development and operation of the Mitchell Canyon Interpretive Center on the north side of the mountain.
Some current activities include:
Assist the State Park in conserving, developing and interpreting park.
Sponsor regular art shows in the Summit Museum.
Help in the development of a world class interpretive trail. This Trail Through Time will allow hikers to walk back through 150 million years of geologic history.
Publishing the popular Trail Map of Mt. Diablo State Park and various natural history brochures. MDIA also participates in the publishing of the biannual Mt. Diablo Review for free distribution to park visitors and local libraries.
Participate in an ongoing State Park trash clean-up project.
The MDIA is an official cooperating association with California State Parks. For more information or to join, visit the
Mount Diablo Interpretive Association
website.
---
Mount Diablo Interpretive Association
P.O Box 346
Walnut Creek, CA 94597-0346
TEL 925-927-7222