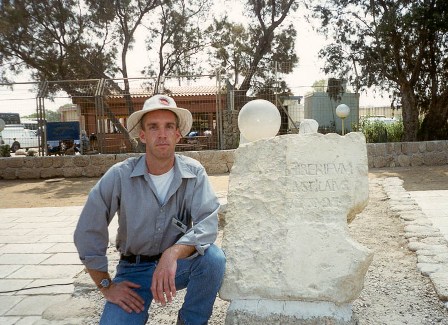 Matt C. Bischoff
State Historian III
Monterey District Office
2211 Garden Road
Monterey, CA 93940

Phone: (831) 647-6240
Email: Matt.Bischoff@parks.ca.gov
I am currently the cultural resources manager (Historian III) for the Monterey District of California State Parks. My responsibilities include the historical, archaeological, and museum resources across the entire district territory (Monterey, San Benito, and Santa Clara Counties).

I have worked for California State Parks since 2001, working in several locations. Prior to that time, I worked for several consulting firms in San Diego, Edwards Air Force Base, and Tucson, Arizona.

I have worked as a historian, architectural historian, and historical archaeologist all over the west including in Nevada, Arizona, New Mexico, Utah, and all parts of California. My professional interests include military history, historic architecture, mining, transportation, Native American history, among others. I received a B.A. degree in history from the University of California, Davis (1991) and an M.A. in history and archaeology from the University of Nevada, Reno (1993).

With State Parks, my projects have ranged from Santa Barbara up to Shasta County; and from historic structure reports on brick ruins to archaeological excavations of historic ranches. One of my most interesting projects was the documentation and evaluation of the light station on Año Nuevo Island in San Mateo County.

In Monterey, I am currently working on a wide variety of projects that include Gilroy Hot Springs, the Cooper Molera Adobe, Pfeiffer Big Sur, Point Sur Light Station, Fort Ord Dunes, among many others.