UPDATE (May 1, 2020): This park is temporarily closed to vehicular access, meaning there are no parking facilities and parking on roadways is prohibited to protect public health from the COVID-19 pandemic. Although this park is open to local residents, they must abide by the following guidelines:
Stay Local: Walk or bike into the park. Do not drive to the park.
Stay Active: Keep walking, jogging, hiking and biking. Watch for one-way trails.
Stay Safer at 6 Feet: Maintain a physical distance of 6 feet or more. Gatherings, picnics and parties are not allowed. Visitors are being asked to leave if there are too many people at the park or on trails to allow for the required physical distance.
Stay Clean: Be prepared. Bring soap/sanitizer and pack out all trash.
Statewide, many parks and beaches are temporarily closed or have very limited access to ensure Californians are abiding and practicing physical distancing. The goals are to make sure people are safe and to mitigate the spread of COVID-19 as much as possible. To view the list of closures and what they mean to the public, please visit
www.parks.ca.gov/FlattenTheCurve
.
Phone Number
(530) 525-7232
Park Hours
Sunrise to Sunset

No Motorized Vehicles
allowed in the park
Dogs Allowed?
Yes
Dogs allowed only on fire roads. To protect the integrity of the groomed Nordic ski courses, dogs not allowed on designated ski trails within the Sierra District, from Nov. 1 to May 1 annually, when snow is present.
Driving Directions to Burton Creek State Park
The park is located on the northeast side of Tahoe City.


Online reservations are not available for this park.
Upcoming Park Events
No events scheduled at this moment.
NOTICE: Prescribed burn at Burton Creek State Park: May 4-7th, 2021
California State Parks Fire Crew will execute a prescribed burn. This tentative plan is subject to environmental conditions and other factors:
May 4th: Understory burn Plot B2, 20 acres.
May 5th: Assuming continued favorable conditions, understory burn Plot B3, 20 acres. We will then hold at 40 acres for the week.
*See Smoke Management Plan below. Fire and smoke will persist through the week.
More information on Forest Management and Prescribed Burns.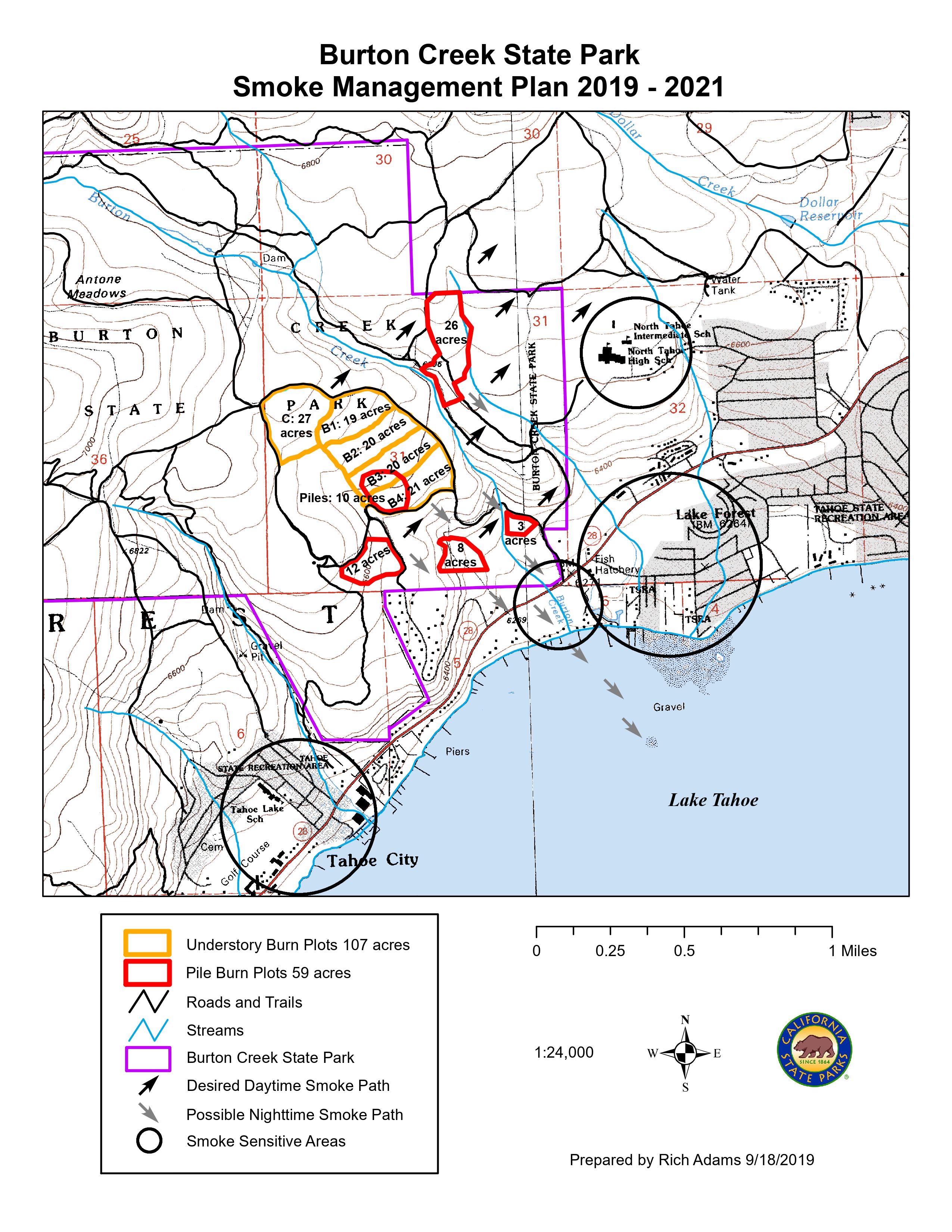 Burton Creek State Park
Burton Creek State Park is located on the outskirts of Tahoe City.
Six miles of unpaved roadway are available for hiking, mountain biking, and cross-country skiing.
The terrain is mountainous and uneven and explores the south facing slopes of the north shore of the Tahoe Basin.
There is a variety of conifers and shrubs, and opportunities for wildlife and bird watching.
Spring time offers many wildflowers to see, and in the fall the cottonwoods change color.
In the winter, the trails are open for cross-country skiing. For more information please contact Tahoe XC.
Water, restrooms, and other services are not available.
Motorized vehicles are not allowed in the park.
Additional Visitor Services
Tahoe City Public Utility District (Burton Creek ski trails and instruction)
Location - Directions
Burton Creek State Park is located on the northeast side of Tahoe City.
Please review the park brochure for access areas.
Seasons/Climate Recommended Clothing
Summer temperatures range from about 75 degrees during the day to the low 40s at night, and winter temperatures average from a high of 40 to a low of 20 degrees. The high sierra weather is varied and can change abruptly. It is recommended to bring layered clothing and check weather updates.

Social Feed