For Immediate Release: 7/20/2021
California State Historical Resources Commission to Consider Nine Properties for Action
Contact: Jorge Moreno I Information Officer I Newsroom@parks.ca.gov
The California State Historical Resources Commission (Commission) will meet virtually on Friday, July 30, at 9 a.m., to consider nine nominations for federal historic designation.
Some of the nominations being considered by the Commission include the Fairfax Theatre in Los Angeles, which became the center of the developing neighborhood's social life, both as a venue for entertainment and as a center for fundraising for local Jewish synagogues, temples, clubs and charities. Another property being considered is the Institute of Geophysics and Planetary Physics Munk Laboratory in La Jolla for its numerous, groundbreaking contributions made in physical oceanography and geophysics by noted Scripps faculty.
National Register of Historic Places nominated properties being considered include:
Consolidated Orange Growers Precooling & Ice Plant
Orange, Orange County
Situated prominently at the heart of the city of Orange, adjacent to the Santa Fe Railroad tracks, the building played a significant role in the cold storage, shipping and distribution of citrus fruit throughout the nation. The 14,400-square-foot Precooling Plant was constructed in 1930, with a significant 4,400-square-foot Ice Plant addition in 1939. Minor interior modifications were made to accommodate office and residential adaptive reuse.
Fairfax Theatre
Los Angeles, Los Angeles County
The art deco style mixed-use building—consisting of a cinema triplex, retail shops and second-floor offices—was completed in 1930 and located at the intersection of Beverly Boulevard and Fairfax Avenue in Los Angeles. The theater became the center of the developing neighborhood's social life both as a venue for entertainment and as a center for fundraising for local Jewish synagogues, temples, clubs and charities. The building's retail storefronts served as a neighborhood commercial center, with ethnic specialty stores and restaurants.
Hobart Building
San Francisco, San Francisco County
The building is an excellent example of an early 20th-century commercial skyscraper that embodies the distinctive characteristics of the French Renaissance Revival style. Designed by master architect Willis Polk at the height of his career, the Hobart Building was constructed in 1914 in the Financial District during San Francisco's reconstruction period following the 1906 earthquake and fires, and leading up to the opening of the 1915 Panama-Pacific International Exposition intended to showcase San Francisco's resilience to the nation and the world.
Malaga Cove Plaza
Palos Verdes Estates, Los Angeles County
The shopping, office and community center building complex was constructed between 1925 and 1964. An excellent example of Mediterranean Revival architecture as applied to a continuous grouping of commercial buildings around a central plaza with a fountain, the district—evoking a Mediterranean village in appearance—was a critical component of the master-planned City of Palos Verdes Estates, the work of notable city planner Charles Cheney and landscape architecture firm Olmsted Brothers.
Ontario Baseball Park
Ontario, San Bernardino County
The park was the type of project that reached all community social and economic levels and worked toward improving neighborhood relations. The ballpark was constructed in 1937 to the standards of a major league baseball field to attract professional teams from across the United States to spend their annual spring training in Ontario—an economic boost to the city during the Great Depression. Funded and constructed by the Works Progress Administration, the ballpark is an excellent example of a Depression-era program success that continues to support the recreational activities of Ontario's residents.
Institute of Geophysics and Planetary Physics (IGPP) Munk Laboratory
La Jolla (San Diego), San Diego County
The laboratory is located on a coastal bluff at the Scripps Institution of Oceanography in La Jolla and is part of the University of California, San Diego, campus. At IGPP, numerous groundbreaking contributions have been made in physical oceanography and geophysics by noted Scripps faculty, including the father of oceanography, Dr. Walter H. Munk, in whose honor the lab was named. The 1963 lab is the work of master architect Lloyd Ruocco, who was essential to the development of the local Modern movement in San Diego.
Flamingo Hotel
Santa Rosa, Sonoma County
Designed by Las Vegas architect Homer Rissman for developer Hugh Codding, the 1957 resort in the mid-century modern architectural style includes a conference center and four hotel wings attached by connecting hyphens arranged in a wheel spoke pattern around a central courtyard and swimming pool. The City of Santa Rosa designated the original sign—in the form of a tall, three-sided pylon topped by a stylized flamingo—a local landmark in 1997. Metal letters with neon backlighting spell out "Flamingo" along the pylon.
Hotel Lenhart
Sacramento, Sacramento County
The nine-story hotel in downtown Sacramento was originally constructed in 1911-1912 as two separate buildings—a hotel and office building—and later combined into a single hotel in 1933. Both were designed by the Seadler and Hoen firm, well known in Sacramento for their fusion of Prairie and Colonial Revival architecture. The property became a residential hotel in the 1960s, providing "housing of last resort" to workers, disabled adults and senior citizens displaced by the redevelopment of Sacramento's West End.
Alberta Candy Factory
San Francisco, San Francisco County
Located in San Francisco's Central Waterfront, the building was designed by Emil A. Neumarkel for Max Levin, a scrap metal dealer, and constructed in 1919. Leased to candy manufacturer Alberta Candy Company in 1924, the building is significant for its role in San Francisco's confectionary industry and as a locally prominent example of an American Commercial Style industrial loft building.
All nominations and photographs of properties under consideration are available online.
The July 30 Commission meeting can be viewed starting at 9 a.m. on cal-span.org. To provide public comment, the public is advised to register online via the Zoom link here. Commission meetings are open to the public and accessible to people with disabilities. If special accommodations are needed, please contact Jay Correia at Jay.Correia@parks.ca.gov.
Notices and agendas for Commission meetings are available online 10 days before a meeting at www.parks.ca.gov/Commissions. Inquiries and written comments on the agenda may be emailed to the Office of Historic Preservation at calshpo@ohp.parks.ca.gov or submitted via mail to Julianne Polanco, State Historic Preservation Officer at the Office of Historic Preservation, P.O. Box 942896, Sacramento, CA 94296-0001.
General inquiries on the Commission are handled by Twila Willis-Hunter. She may be contacted via phone at (916) 445-7052 or at the same mailing address listed above.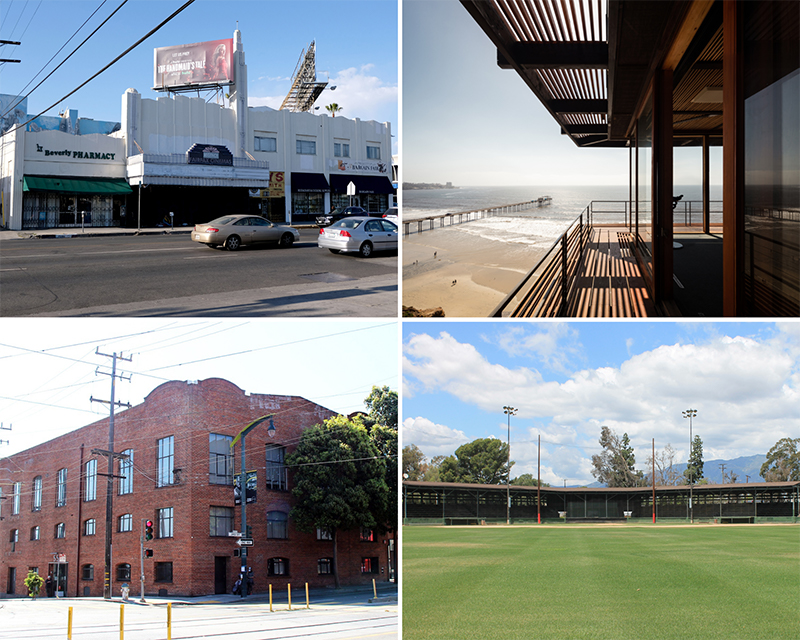 Top: The Fairfax Theatre in Los Angeles (left), the Institute of Geophysics and Planetary Physics Munk Laboratory in La Jolla. Bottom: The Alberta Candy Factory in San Francisco (left), the Ontario Baseball Park in Ontario.
###
Office of Historic Preservation
Responsible for administering federally and state mandated historic preservation programs to further the identification, evaluation, registration and protection of California's irreplaceable archaeological and historical resources under the direction of the State Historic Preservation Officer, a gubernatorial appointee, and the State Historical Resources Commission. Learn more at ohp.parks.ca.gov.
Facebook | Twitter | YouTube | Flickr
---
Subscribe to California State Parks News via e-mail at NewsRoom@parks.ca.gov
California State Parks provides for the health, inspiration and education of the people of California by helping to preserve the state's extraordinary biological diversity, protecting its most valued natural and cultural resources, and creating opportunities for high quality outdoor recreation.