For Immediate Release: 4/27/2021
California State Historical Resources Commission Meets to Consider Eight Properties for Action
Contact: Newsroom@parks.ca.gov
The California State Historical Resources Commission (Commission) will meet virtually this Friday, April 30, at 9 a.m. to consider seven nominations for federal historic designation and an update for a California Historical Landmark.
Some of the nominations being considered by the Commission include the Los Angeles County Point Fermin Historic District for the Point Fermin Light Station and Battery Osgood-Farley buildings. Commissioners are considering combining both building into one single district. The lighthouse building, constructed in 1873, is being considered for its architecture and association with maritime transportation. The Battery Osgood-Farley is eligible for its association with the U.S. military defense system. Other properties include the 1939 Veteran's Memorial Building in Nevada County for its unusual architecture style.
All properties being considered at the meeting include:
National Register of Historic Places Nominations
Point Fermin Historic District
Los Angeles, Los Angeles County
Two individually listed sites, Point Fermin Light Station and Battery Osgood-Farley, are being considered for an update into a single district including contributing properties around these two buildings. Battery Osgood-Farley is a Los Angeles coastal naval battery and lookout station, including the central batteries, Osgood and Farley, radio compass generator building, base end stations, and naval detection defense stations. Originally listed in 1974, the battery is eligible under National Register for its association with the U.S. military defense system. Point Fermin Light Station in Los Angeles is a lighthouse building, constructed in 1873, and buildings that supported the lighthouse include a coal house and privy, storehouse, and cisterns. The property is eligible for its architecture, and for association with maritime transportation. In addition to the expanded boundaries and contributors, the nomination revises the Period of Significance to 1873-1944, from original construction of the lighthouse battery to the date of Battery Osgood-Farley's decommissioning.
Sierra Railway Shops
Jamestown, Tuolumne County
The 22.5-acre district incorporates the facilities for Sierra Railway's central shops building. The facilities, originally constructed for steam locomotive, freight, and passenger car maintenance and repair, includes freight depot, roundhouse, car shop, turntable, and other ancillary equipment. The shops are significant for their association with this eastern California railroad, and in the area of entertainment media at the national level of significance. Additionally, the shops are the most intact and significant example of a "movie railroad" in the United States, utilized as a filming location and production facility for movies and television from the era of silent film through present day. The Sierra Railway Shop Crew created ingenious "costumes" for their vintage steam locomotives, including different styles of smokestacks and pilots, to change the locomotives' appearance based on the setting and era of particular films, much like special effects makeup and costumes are used by actors. Today, the facility is known as Railtown 1897 State Historic Park.
Truckee Veterans Memorial Building
Truckee, Nevada County
The 1939 Veteran's Memorial Building was designed by Sacramento architect George Sellon. Designed in an unusual style reminiscent of a Gothic arch, suggesting the stylistic influence of military aircraft hangars or Nissen huts, the Veterans Memorial building became a social and community center for Truckee. In 1959, a steel tower built next to the Veterans Memorial Building to enclose the area's legendary Rocking Stone, an unusual balanced-rock geologic formation, became part of the 1960 Winter Olympics. The property is nominated for its association with the history of Truckee and its notable architecture.
Hines House
The Sea Ranch, Sonoma County
The main house and a guest house were built in the Modern Movement Shed Style. The rectangular plan buildings are constructed of timber framing over a concrete perimeter foundation, with vertical redwood siding and redwood shingle roofing materials. The property embodies the distinctive characteristics of the style and represents the work of California master architect William Turnbull, Jr., FAIA and California master builder Matthew D. Sylvia.
Walter and Judith Munk House
La Jolla (San Diego), San Diego County
As an excellent example of the Modern Movement, the buildings in the Scripps Estates Associates residential neighborhood exhibit distinctive characteristics associated with the Organic-Geometric and Post-and-Beam subsets of the Modern style. The property is the work of regionally prominent artist and architectural designer Judith Munk—who designed the buildings, landscape, theater, and associated works of art—and is associated with some of Dr. Walter H. Munk's scientific and academic advancements, as well as Judith and Walter's contributions to the social history of Scripps, University of California San Diego, and the La Jolla community.
Pasadena Avenue Historic District
Pasadena and South Pasadena, Los Angeles County
The leafy residential district of single-family homes sits at the south-central/southwest edge of the city of Pasadena and includes eleven resources in the city of South Pasadena. A high concentration of intact buildings from the late 19th and early 20th centuries represents a broad, eclectic range of architectural styles—influenced by the Arts and Crafts Movement centered in Pasadena at the turn of the century—that clearly demonstrate the evolution of residential architecture in Southern California throughout the 1885 to 1938 period of significance.
Winehaven Historic District (Boundary Decrease)
Richmond, Contra Costa County
This nomination updates the 1978 listing of a large commercial wine processing, storage, and shipping facility on the Potrero San Pablo peninsula, on the eastern shore of the San Francisco Bay. As listed, the district encompassed one hundred acres and fifty-seven resources—a mix of the original winery buildings and structures, and later construction from the district's adaptive reuse as a Naval Fuel Depot known as Point Molate—and is amended to sixty acres with fifty-two resources. The property, characterized by its industrial campus and company town setting, is significant for its contribution to the early period of winemaking in California and for its distinctive architecture.
California Historical Landmark (Update)
Carnegie CHL #740 Amendment
Carnegie State Vehicular Recreation Area, San Joaquin County
Additional historical research and documentation updates are being considered for the California Historical Landmark #740 for the town of Carnegie. Carnegie was registered as California Historical Landmark (CHL) #740 on July 5, 1960. Since this designation, additional historical research has shown that the original application (and plaque) had historical inaccuracies. These inaccuracies arose from conflating historical information pertaining the nearby town of Tesla with Carnegie's history. This application is being submitted to correct the historical information on Carnegie and to allow for an updated plaque to be approved.
Nominations and photographs of all properties under consideration are available online.
The April 30 Commission meeting may be viewed starting at 9 a.m. on cal-span.org. To provide public comment, the public is advised to register online via the following Zoom link here. Commission meetings are open to the public and accessible to people with disabilities. If special accommodations are needed, please contact Jay Correia at Jay.Correia@parks.ca.gov.
Notices and agendas for Commission meetings are available online 10 days before a meeting at www.ohp.parks.ca.gov. Inquiries and written comments on the agenda may be emailed to the Office of Historic Preservation at calshpo@ohp.parks.ca.gov or submitted via mail to Julianne Polanco, State Historic Preservation Officer at Office of Historic Preservation, P.O. Box 942896, Sacramento, CA 94296-0001.
General inquiries on the Commission are handled by Twila Willis-Hunter. She may be contacted via phone at (916) 445-7052 or at the same mailing address listed above.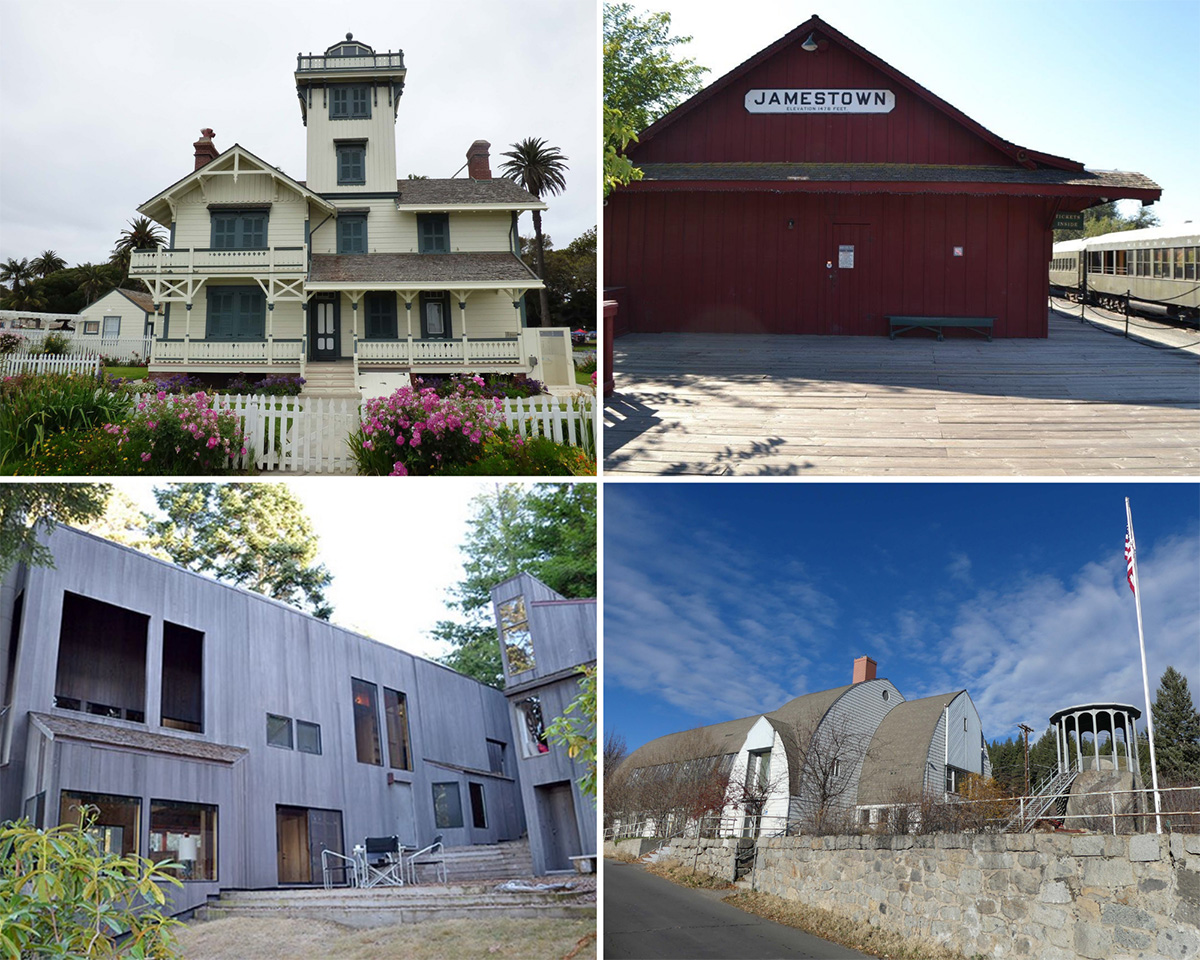 Top left: The Point Fermin Light Station Historical District in Los Angeles County. Top right: The Sierra Railway Shops in Tuolumne County. Bottom left: The Hines House in Sonoma County. Bottom right: Truckee Veterans Memorial Buildings in Nevada County.
---
Subscribe to California State Parks News via e-mail at NewsRoom@parks.ca.gov
California State Parks provides for the health, inspiration and education of the people of California by helping to preserve the state's extraordinary biological diversity, protecting its most valued natural and cultural resources, and creating opportunities for high quality outdoor recreation.