This two-story limestone rock and adobe building was built by Thomas O. Larkin in about 1845. Several years later, Joseph Boston leased the structure to operate one of the first general merchandise stores in the area. The actual date of opening is said to have been between April, 1849 and April, 1850. A surprising assortment of goods was sold during this period. Items available for purchase included: silverware, pans, coffee mills, tubs, brooms, walnuts, tea, hams and soap. Boston literally offered everything from garden seeds to grinding stones!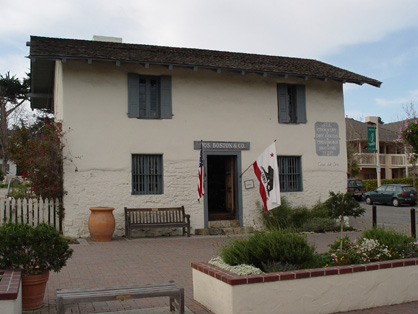 The first safe in Monterey was installed in Boston's Store. Local legend claims that miners returning from the gold fields often stored their assets there. This led to the designation "Casa del Oro" or House of Gold. Today, one can still find the original safe and Boston's office desk on display.

This building, the first mercantile store in Monterey, is operated by the non-profit Historic Garden League. Historically, the store traded with many countries of the world for merchandise. Today, the Boston Store offers merchandise for sale themed to the 1850s. Reproductions, as well as antiques, await the visitor as one tours the Boston Store. The Historic Garden League also operates the Picket Fence Garden Store located next door. Proceeds of sales go toward improvements to the gardens of old Monterey.


Picket Fence Garden Store