Humboldt Redwoods State Park offers a wide variety of camping experiences. Family campsites provide a picnic table and fire ring. Drinking water, flush toilets and hot pay showers are nearby. There are no RV hookups or dump stations in the park.

In summer, reservations are strongly recommended. With the exception of trail camps, all reservations are site specific. They are available only by calling 1-800-444-7275 or online.

Camping fees are for one vehicle and one legally towed vehicle. Additional vehicles will be charged a fee at the park. Please note and honor the maximum number of vehicles allowed for each campsite (available when you make your reservation). All vehicles must be parked in the designated parking spur.

All Humboldt Redwoods campgrounds are in bear country, especially Albee Creek, Cuneo Creek, Baxter, Hamilton Barn, and the trail camps. It is the visitor's responsibility to properly store food and all scented items at all times.

Kiosks at Albee Creek, Burlington, and Hidden Springs, are open Memorial Day to Labor Day, 8 am to 10:30 pm. The rest of the year, please register yourself.

Albee Creek Campground
Usually open May through mid-October, idyllic Albee Creek Campground is in an old homestead 5 miles west of the Avenue of the Giants on Mattole Road. With 40 sites all or partly under second-growth redwoods or in a prairie, it's near Rockefeller Forest and many hiking and mountain biking trails. Swimming is four miles east in the South Fork of the Eel, and wading is permissible in either Bull Creek or Albee Creek. Early reservations are highly recommended as this is many visitors' favorite campground.


Burlington Campground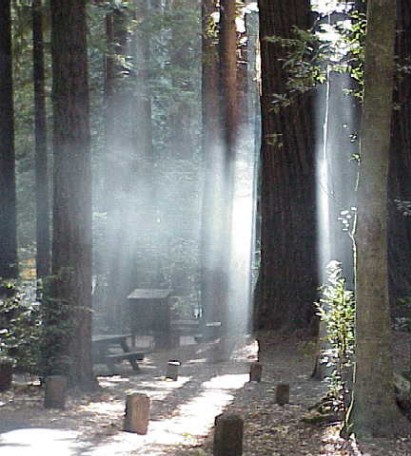 Open year-round, Burlington Campground is near the park's visitor center on the Avenue of the Giants, 1.5 miles south of Weott. Its 57 sites are in a grove of old- and second-growth redwoods, a short distance from the South Fork of the Eel for fishing and swimming. A summer bridge across the river leads to hiking trails.



Hidden Springs Campground
Usually open Memorial Day through Labor Day, Hidden Springs Campground's 154 sites lie on a forested hillside 5 miles south of the visitor center on the Avenue of the Giants, just south of the town of Myers Flat. The South Fork of the Eel is a short walk away.

Hamilton Barn and Baxter Environmental Camps
Open mid-April through mid-October, Humboldt Redwood's five environmental camps offer a quiet and private alternative to the larger campgrounds. They have picnic tables, fire rings, pit toilets, and untreated water. Campers must walk 50–200 yards to their site from the parking area. Gate combinations to the parking area are available upon registration. Campers must register prior to setting up camp, and registration can be done at any open campground. The camps are six miles west of the Avenue of the Giants on Mattole Road. Early reservations are recommended. Please remember, pets are never allowed at environmental camps.


Cuneo Horse Camp
For equestrians only, Cuneo Horse Camp offers access to many miles of riding. On a beautiful prairie at the base of a ridge, it has five family campsites, each with two corrals, and two group campsites. Group Site A accommodates 65 people and has 22 corrals, while Site B accommodates 25 people and has six corrals. There are fire rings, picnic tables, treated water, flush toilets, and coin-operated hot showers. The turnoff is on the Mattole Road eight miles west of the Avenue of the Giants. Open mid-April to mid-October
Williams Grove Group Camp
Open Memorial Day to Labor Day, Williams Grove Group Camp is in old-growth redwoods just one-half mile north of Myer's Flat on the Avenue of the Giants. It has two adjacent group sites, one for 40 people and one for 60 people, which can be combined to accommodate 100. The sites have picnic tables, fire rings, and flush toilets. Campers are welcome to use the hot pay showers at nearby Burlington or Hidden Springs campgrounds. The South Fork Eel is just steps away, and a summer bridge provides access to miles of backcountry trails.
Marin Garden Club Group Camp
Marin Garden Club Group Camp lies in a lovely redwood grove on the north end of the old town site of Weott. Open Memorial Day to Labor Day, it has one group site for 40 people, for tent camping only. (Due to a limited turnaround area, RV's and trailers are not permitted.) The site has picnic tables, fire rings, and flush toilets. Campers are welcome to use the hot pay showers at nearby Burlington Campground.
Trail Camps
For the visitor seeking a wilderness backpacking experience, Humboldt Redwoods offers five trail camps. They generally have bear boxes and pit toilets, but not always water. Hikers should inquire about water before departing and be sure to take a map. [link to map info at beginning of hiking section] Dogs and other pets are not allowed on trails or at trail camps.

The easiest camp to reach, Johnson Camp is located at an old "tie hackers" camp, and several dilapidated huts are nearby. This area is notorious for mosquitoes, especially early in the season. Grasshopper Camp is on the edge of a meadow just beneath the top of 3,379-foot Grasshopper Mountain. The strenuous climb to this camp rewards the backpacker with 360-degree 100-mile views. Beneath old-growth redwoods, Whiskey Flat Camp is named for the notorious still that was here during Prohibition. Hansen Ridge Camp offers views to the King Range on the edge the Pacific Ocean and spectacular sunsets. On upper Bull Creek, Bull Creek Camp is hard to reach and therefore likely of all the trail camps to provide solitude.

Hike and Bike Sites
Hike and Bike Sites are reserved for "people powered" visitors. Burlington Campground has three such sites, and Albee Creek and Hidden Springs campgrounds accommodate Hike & Bike visitors as needed.