Columbia Hotels and Cottages
---
Click here for Current Hotel Specials!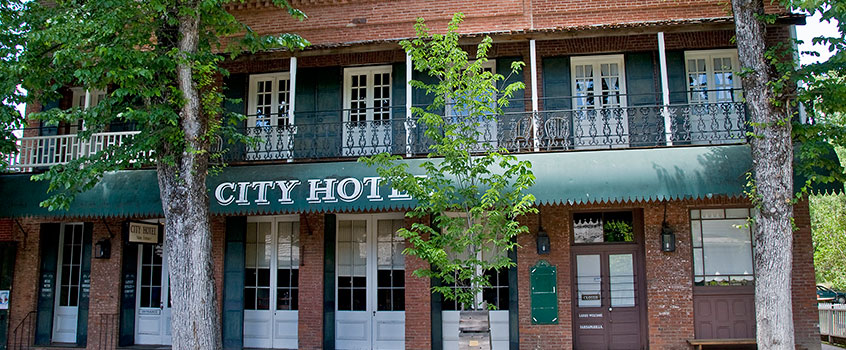 COLUMBIA STATE HISTORIC PARK, one of the best-preserved California Gold Rush towns, is a popular destination for school living-history programs, special family gatherings, or a year-round getaway. Columbia offers a unique blend of museums, exhibits, town tours, live theater plays, restaurants and attractions.
Visit the shops, catch a stagecoach, or take a ghost tour of Columbia. There are 25 wineries within a twenty minute drive, giant sequoias at Calaveras Big Trees State Park within a thirty-five minute drive, the exciting days of steam-train travel at Railtown 1897 State Historic Park within a ten minute drive, and Yosemite National Park is just over the hill. The area is also a prime spot for antiquing, gold panning, cave exploring and white-water rafting.
The Columbia City Hotel and its sister, the Fallon Hotel, are authentically restored 19th-century country inns. All rooms are elegantly appointed with Victorian antiques, custom crafted wall coverings, and beautiful lithographs. Take a peak at the front desk.
Each hotel has a sitting parlour where you can peruse books and magazines, or participate in one of many board games.
While both hotels stay as faithful to 19th century decor as possible, modern conveniences such as indoor plumbing, heating. and air conditioning have been added. Each room has a half bath and a shower basket is provided for the trip down the hall to the shared shower rooms.
There are also three charming cottages- a one-bedroom, two-bedroom and three-bedroom-each with a full kitchen, fenced yard and DVD player.

Take a step back into history and make Columbia your next vacation destination.
Please note, a 12% Transient Occupancy Tax applies to nightly room rate.