2011 California Trails & Greenways

THANK YOU FOR MAKING THE 26TH CALIFORNIA TRAILS & GREENWAYS CONFERENCE THE LARGEST, MOST DIVERSE AND MOST INTERESTING EVER!

PURPOSE
The California Trails & Greenways Conference provides trail professionals, advocates, volunteers and users with a venue for sharing practical, up-to-date trail management and advocacy skills; as well as a forum for networking and building support for accessible, inter-connected, sustainable non-motorized trail systems. For 26 years, this investment of knowledge by California State Parks and the California Trails Conference Foundation has helped ensure trail stewardship and leadership for generations to come. More on the Conference Purpose and History is available here.

CLICK HERE FOR THE CONFERENCE PROGRAM (1000 KB)

WHY SHOULD YOU ATTEND NEXT YEAR?
The conference is highly productive: 94% of 2010 attendees reported that their reasons for attending the Conference were satisfied. These attendees were almost evenly split between public agencies, and representatives of trail advocacy organizations. That's proof that, even in really tough budget years, agencies and not-for-profit organizations find this training invaluable! Expect:
Concurrent sessions offering valuable lessons in effective trail program management that stretches public dollars further. Learn about successful strategies and funding mechanisms that can help your trails prosper.
Networking opportunities linking trail leaders in the community and government so they can partner to solve the most difficult issues. Need a professional trail mentor? Join us!
Workshops providing hands-on learning opportunities not available elsewhere. Explore and discuss solutions that are working now. Learn how others have addressed the same on-the-ground challenges you face.



---
CONFERENCE PROGRAM

Our 2011 INCREDIBLE KEYNOTE SPEAKER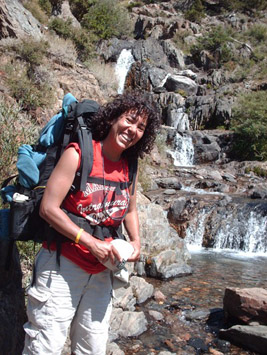 Director of the Pacific Leadership Institute
Contact Dr. Nina S. Roberts for information about this topic
Dr. Nina S. Roberts is a dynamic educator and respected leader, having successfully blended her passion for natural resources and cultural/ethnic diversity into a crucial field of expertise. As our keynote speaker, Dr. Roberts will provide trail advocates with insights and resources for effectively responding to the changing demographics and cultural shifts occurring throughout California and the nation.
Nationally known for her research in race/ethnicity and gender issues regarding recreational use and constraints to visiting parks and public lands, and in youth development and outdoor adventures, Dr. Roberts is a visionary with great energy and an unwavering commitment to increasing respect and understanding among divergent cultures. She has been interviewed by a variety of news media including Public Radio International and the New York Times. Dr. Roberts has taught and consulted on a broad range of diversity enhancing projects with numerous agencies, conservation organizations and educational institutions.
Dr. Roberts is a Fulbright Scholar; an Associate Professor in the Department of Recreation, Parks, and Tourism at SF State University; Board member of the Yosemite Institute, and serves on the Advisory Council for both GirlVentures and the Center for Diversity and the Environment. She was formerly an Education and Outreach Specialist with the National Park Service, and served as the Assistant Director of the Student Conservation Association's National Urban & Diversity Programs.

Essential to the future security and success of trails and conservation, you will not want to miss what promises to be a dynamic discussion on diversity and youth in the outdoors.
PRE CONFERENCE WORKSHOPS
Universal Trail Assessment Process (UTAP) & High Efficiency Trail Assessment Process (HETAP)
By Peter Axelson & Jeremy Vlcan
Introduction & Overview
Measurements
Main Screens Visuals
Data Management
Application and Dissemination

Evaluating Roads & Trails for Management Planning
By Steve Musillami
Evaluating Roads & Trails 1
Evaluating Roads & Trails 2
---
SESSION PRESENTATIONS
A Trail Community For All
Bicycle/Pedestrian Bridge Engineering-Part 1
Bicycle/Pedestrian Bridge Engineering-Part 2
Building Community Support
Complete Trail Wayfinding Systems 1
Complete Trail Wayfinding Systems 2
Deeper Paths New Purposes for Trail Interpretation
Engaging Youth Plenary
Getting Kids on Trails
GIS Best Practices for the Trails
Great California Delta Trail Blueprint Report
Great Trail Events-Part 1
Great Trail Events-Part 2
High School Students Utilizing GPS
Inspiring Youth
Most Dangerous Animal on the Trail 1
Most Dangerous Animal on the Trail 2
Outreach in Focus
Path To Gold-Caltrans BTA Plans.pdf
Recreational Trails Planning-Support for Trails
Regional Trail Planning-Part 1
Regional Trail Planning-Part 2
Regional Trail Planning-Part 3
Regional Trail Planning-Part 4
Regional Trail Planning-Part 5

Technology for Fun Sustainable Trails
Tools & Technology for Accessible Trails
Trail Assessments Digital
Trail Counts with Automatic Counters
Trail Design Construction Muir Beach
Trail Funding New Congress 1
Trail Funding New Congress 2
Treated Wood for Durable Trail Construction
Transit and Trails
Turning Regulatory "Roadblocks" into Opportunities
Understanding Federal Trail Accessibility Guidelines
Winning Trail Campaigns
Working with ADA for Better Parks


Trail Awards. Presentations
Past winners of the Trails & Greenways Conference Awards

2011 Conference Site
The 26th California Trails & Greenways Conference was held at the San Ramon Marriott at the base of
Mt. Diablo in Contra Costa County. We experienced trail collaboration on a grand scale in this scenic, but densely populated region. This conference venue highlights the skills and wisdom of one of the most progressive and diverse trails communities in the nation.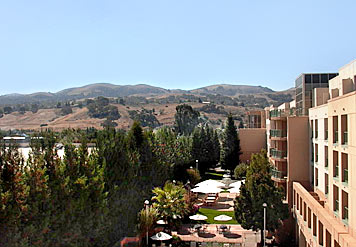 GET INVOLVED!!
The Conference happens because of you. Trail leaders from throughout the state contribute generously to our success and reap benefits for years to come.
For information on past conferences, including links to plenary and educational sessions, click on the following pages:
2006 Trails & Greenways Conference
2007 Trails & Greenways Conference
2008 Trails & Greenways Conference
2009 Trails & Greenways Conference
2010 Trails & Greenways Conference