Elephant Seals Return to State Parks on California Coast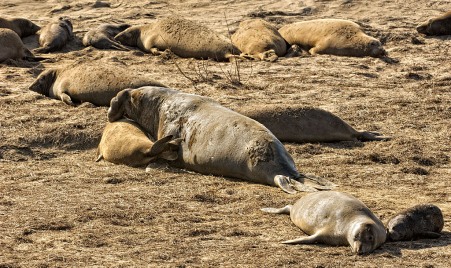 If you have not seen this annual ritual, you have missed one of the truly magnificent events of the animal world that is comparable to some of the more famous animal migrations found throughout the world.
And here is the truly great thing about this wonder of nature. It is within the backyard of California, so-to-speak, just hours away from where ever your home is located We are talking about the fall return of the Northern Elephant Seals to the Coastline of California. That return happens mainly at two major locations at two different California State Parks. One is located at Año Nuevo State Park along the San Mateo Coast south of San Francisco. The other is Hearst-San Simeon State Park and the elephant seal vista point located about 5 miles north of Hearst Castle along the coast of San Luis Obispo County. Go to either park between mid-November through mid-January and you will be startled, impressed, excited and hungry for information about this remarkable annual occurrence unfolding before you. About now, the dominant bull elephant seals are returning, displacing the sub adult males who have been on the beach for weeks practicing their gladiator skills in hopes of competing against those giant bulls for the affection of the females. But, there is no contest. It is a battle where the sub adults see the 5,000 pound size of the mature adults and retire to another beach in short order. Then, the giant bulls begin the fight for the right to carve out their harem of females and begin the mating ritual.

So is this a small-time show on the beach? No, consider this. At San Simeon State Beach they are expecting about 18,000 elephant seals to crowd the four mile stretch of beach. Año Nuevo will likewise get thousands of seals. And it will not be a quiet visit to the beach by these giants of the ocean deep. It will be loud chorus of bellowing and grunting seals locked in battle that is deadly serious. It will be a chaotic scene of thousands of bulls pairing off and all fighting at once, most of the day, with only the lesser males giving ground to the monsters of the beach.

When should you go see this spectacle of nature? See below:
• November: Sub adult males haul out on the beach. Mature males begin arriving at the end of the month.
• December: Bulls continue to return. Females arrive. The first birth is usually mid-month.
• January: Females continue to arrive. Peak of births is usually the last half of the month.
• February: Births continue. The peak of the mating is around Valentine's Day. More females begin leaving.
• March: Last adults leave. Weaned pups teach themselves how to swim.