2008 California Trails & Greenways
The 2008 California Trails & Greenways Conference was held May 29th-31st at the Bahia Hotel & Resort located on Mission Bay, San Diego.

Here was the schedule and session descriptions from the 2008 Conference!
Session Schedule (36kb, pdf)

Keynote Speakers
We were very pleased to have two renown speakers: The author of the book "Last Child in the Woods" Richard Louv, and Wildlife Conservationist Joan Embery. For more information on the speakers, check out their following bios. You may click on their photos above to access their webpages.
Pre-Conference Workshops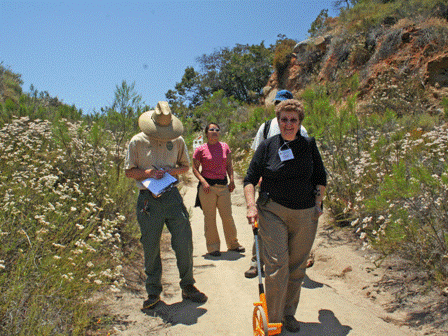 There were three day-long workshops held on Thursday, May 29th. Workshops are a great way to get hands-on experience and to kick off the Conference. Don't miss out on these excellent training opportunities next year. Following is more information on the pre-conference workshops.>
Sessions
Concurrent Session Presentations (when available) may be viewed by clicking on the links below:
California Riding & Hiking Trail; Revitalizing an Historic Trail in San Diego County
Getting Kids Back on the Nature Trail
Outdoor Youth Connection
Connecting Communities: The San Diego River Parkway
Managing Multi-use Trails
Coastal Trail Planning Near Agricultural Lands
Experience Trails Beyond the Destination
Creating Kid-Friendly Trails & Serving Diverse
Youth: A Model for Future Youth Experiences with Natural Areas
Creating a Trail Training Film
Updating the California Recreational Trails Plan (1.2mb .pdf) and Regional Trails draft list (30kb .pdf)