Redwoodecology.org was developed by and for the students of California and for visitors to the world's tallest trees.

The website was a collaborative project between California State Parks, Humboldt State University (HSU), and Humboldt County Office of Education (HCOE). With State Park guidance, students in HSU's Natural Resources Interpretation practicum class developed the content for the website, including interactive pages focusing on redwood species. High school students in a program called Cybertribe, a part of HCOE's Humboldt Regional Occupational Program, created the introductory "flash movie" for the website and developed the HTML encoding for each of the interpretive web pages.
Click on www.redwoodecology.org to learn more about the redwood neighborhood, where every living thing has a purpose and a place.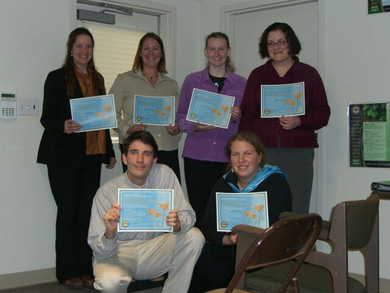 High school and college students accepting California State Park volunteer awards for their help in the creation of redwoodecology.org.