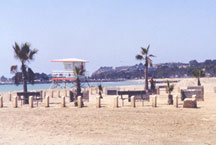 The California State Park and Recreation Commission approved the Doheny State Beach General Plan/EIR on February 27, 2004, at a public meeting at Dana Point, California. The General Plan provides conceptual parameters and guidelines for the long-term management, development and operation of Doheny State Beach.
This popular beach is located just south of the Dana Point Harbor in southern California�s Orange County. Working together with the community and beach visitors, the Department has developed a long-range vision for the future public use and enjoyment of the unit as well as the protection of its quality, resources, and diversity. The General Plan identifies desired improvements to recreational facilities, as well as provides guidelines for protecting the area�s natural resources over the next 20+ years.
Copies of the Final General Plan and Environmental Impact Report are available for viewing at the Doheny State Beach Visitor Center, Dana Point Library (33841 Niguel Road, Dana Point, CA 92629), and at the Department�s Southern Service Center (see address below). An electronic version of the plan is available for downloading and printing by clicking on the link below.
Thank you for your interest and participation in planning for the future of Doheny State Beach.
Documents:

Doheny SB Final General Plan & EIR.pdf (10.5 MB)
California Department of Parks and Recreation
Southern Service Center
NTC at Liberty Station, Barracks 26
2797 Truxtun Road
San Diego, CA 92106