Veldt Grass Removal Project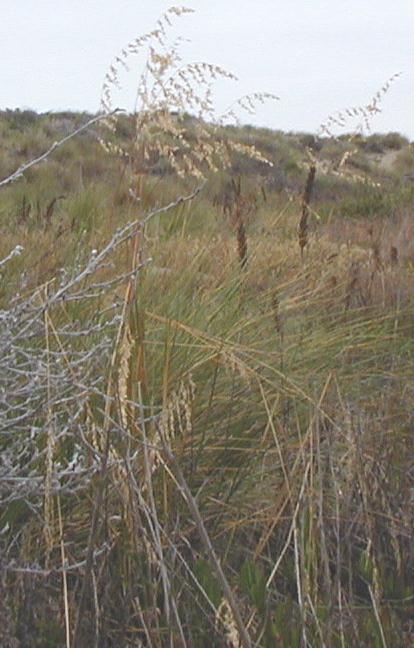 Veldt grass (Ehrharta calycina), a bunchgrass native to South Africa, was introduced to California in the 1940's as a range improvement crop. Since that time, it has spread perniciously along the central coast of California. Currently, Veldt grass populations dominate large areas of central coast dune systems, disrupting ecosytem function and greatly reducing biodiversity.

Veldt has become a significant problem in the south Morro Bay area and Montana De Oro State Park. California Conservation Corps and District staff completed a survey of the veldt grass within the dune system at MDOSP. (See map)

Although Veldt grass appears to occur most prominently in disturbed areas, such as previously cultivated sites, the species can also invade undisturbed native habitat. Only a few codominant species, such as dune lupine (Lupinus chammisonis) and mock heather (Ericamaria ericoides), can compete within a heavily invaded area.



At present, removal efforts are focused in two locations within Montana de Oro SP: Shark's Inlet and an experimental area below the horse corral off Pecho Valley Road, both located within existing or historic coastal dune scrub habitat. A small patch of Veldt grass was sprayed with glyphosate near the corral in the winter of 2001 and then planted with a variety of native species. The herbicide treatment was very successful, but it remains to be seen how quickly veldt grass will recover due to the existing seedbank and propagules originating from adjacent populations. There is also the possibility that the habitat will be invaded by other introduced species.

In February and March of 2002, the majority of the veldt grass at Shark's Inlet and the horse corral were treated with fluazifop, a monocot-specific herbicide. If effective, fluazifop will allow for facile spraying of veldt grass without harming the native plant population. Though a systematic evaluation of the treatment has not been completed to date, the initial mortality rate is encouraging. Treatment will be repeated on a yearly basis to elminate surviving plants, recruits, and to deplete the seedbank.

To help evaluate the removal efforts, a series of monitoring plots have been placed within the treatment areas. Vegetation will be monitored in these plots to track what changes occur over time. This effort will help determine the most effective treatment methodology. In addition, selected plots were revegetated with native species.

A note about Snails:
Monitoring plots within the treatment areas also serve to determine the presence or absence of the endangered Morro Shoulderband Snail (Helminthoglyptha walkeriana). This species ranges throughout coastal dune scrub habitat and may coincide with target veldt grass populations. In addition, State Parks, in cooperation with U.S. Fish and Wildlife Service, has begun conducting snail surveys as an adjunct to the veldt grass control program. Please refer to our Snail Page.

The areas infested with veldt are in red. Map provided by Bobby Jo Close of the California Conservation Corps.
Due to the severity of the problem at Montana De Oro, the main focus of park staff is to stop the Veldt grass from spreading and to control it in areas where the invasion is still manageable (e.g., Shark's Inlet). This makes identifying and eliminating new pockets of veldt grass of great importance. In 2001 and again in 2002, a small patch of Veldt grass was discovered at Morro Strand State Beach — an area where veldt grass had not been found before. It has also now been discovered in small pockets on the sandspit at Montana de Oro SP. Such new infestations will be a high priority as removal efforts continue.
| | | |
| --- | --- | --- |
| | | |
| Veldt in area of Horse Corral | Veldt in Burn Area | Veldt at Shark's Inlet |