For Immediate Release: 11/3/2023
Bear River Band of the Rohnerville Rancheria and California State Parks Formalize Partnership to Cooperate on the Protection of Tribe's Ancestral Homelands
Contacts:
California State Parks
newsroom@parks.ca.gov

LOLETA, Calif.— California State Parks and the Bear River Band of the Rohnerville Rancheria (Bear River) formalized their relationship earlier this week to cooperate on the protection, preservation, and interpretation of parks that lie within Bear River's ancestral homelands in the North Coast Redwoods District of State Parks.
Bear River Chairwoman Josefina Frank and State Parks Director Armando Quintero executed a Memorandum of Understanding (MOU) during a formal signing on Monday, October 30, in Loleta, California. "With the signing of this MOU we will continue to cooperate with one another, collaborate with one another, and care for the land together as we should," said Chairwoman Frank of the MOU.
This MOU will facilitate collaboration between Bear River and State Parks to incorporate traditional ecological knowledge into the protection of cultural and natural resources, collaborate on park interpretation and art projects, and partner together on cultural resource monitoring and protection. This includes promoting the healthy growth of California native plants while allowing for Bear River Tribal Members to gather plants for traditional uses in their ancestral homelands. The MOU also includes the incorporation of cultural burns into natural resources and plant habitation management in the parks.
"We will work together to bring deep time cultural knowledge forward as we work to create a healthier future for the lands and cultures of this state," said California State Parks Director Armando Quintero.
With this latest MOU, State Parks has signed MOUs with six California Native American tribes and is in MOU discussions with eight additional tribes.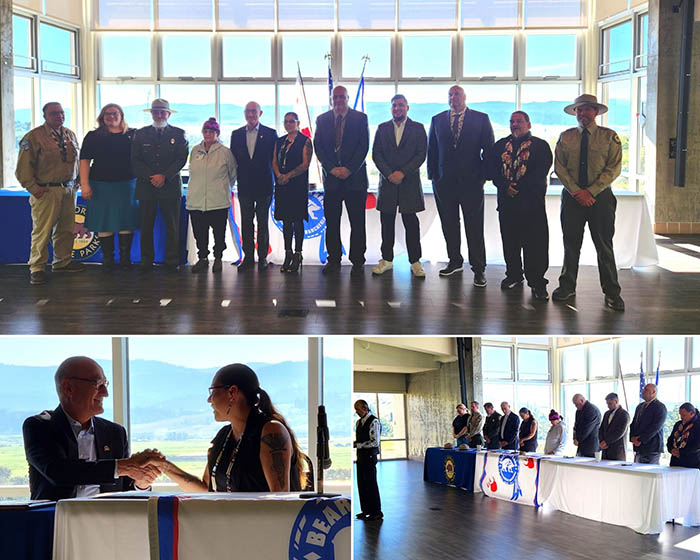 Top: Members of the Bear River Band of the Rohnerville Rancheria (Bear River) and State Parks at the MOU signing ceremony in Loleta, California, on October 30. Bottom left: State Parks Director Armando Quintero shakes hands with Bear River Chairwoman Josefina Frank after signing the MOU. Bottom right: Bear River's Men's Cultural Coordinator Barry Brenard opens the event with a blessing. Photos from Bear River Casino Resort.
---
Subscribe to California State Parks News via e-mail at NewsRoom@parks.ca.gov
California State Parks provides for the health, inspiration and education of the people of California by helping to preserve the state's extraordinary biological diversity, protecting its most valued natural and cultural resources, and creating opportunities for high quality outdoor recreation.