For Immediate Release: 10/20/2023
State Parks Welcomes Public to Leland Stanford Mansion State Historic Park for Halloween-Themed Tours
Contact:
Newsroom@parks.ca.gov

Free Tours Available October 20-31, 2023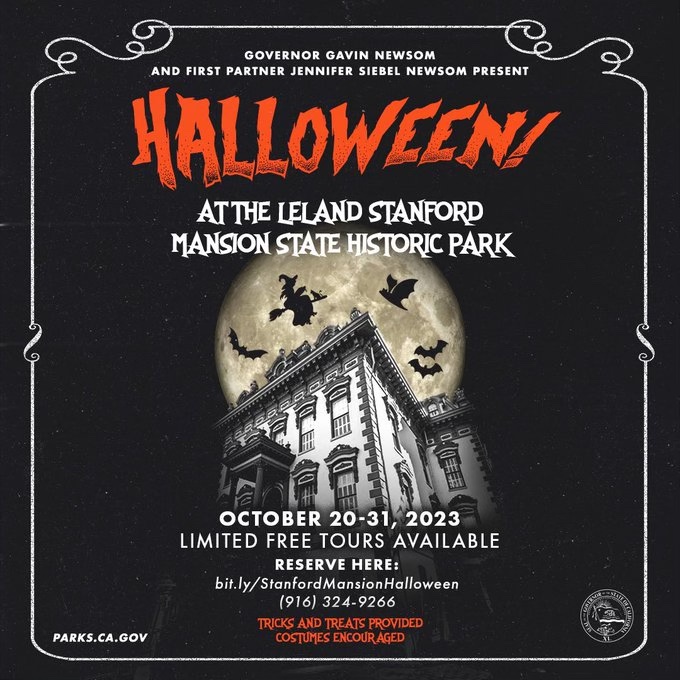 SACRAMENTO, Calif.—California State Parks, Governor Gavin Newsom and First Partner Jennifer Siebel Newsom welcome visitors to the Leland Stanford Mansion State Historic Park for Halloween-themed tours from now until October 31. Special evening and day-time tours will guide visitors through frightfully decorated rooms, each speaking to tales of history and oozing with supernatural surprises.
WHERE:
Leland Stanford Mansion State Historic Park
800 N Street, Sacramento (95814)


WHEN:
Special evening tours: October 20-21 and 27-28 from 5:30 p.m. to 8:30 p.m.
Regular, daytime tours: Available on a first-come/first-serve, non-reservable basis on October 20-31 from 10 a.m. to 4 p.m.


RSVP:

About Leland Stanford Mansion State Historic Park:
The Leland Stanford Mansion is a stunning example of the splendor and elegance of the Victorian era in California. Originally built in 1856 by Gold Rush merchant Sheldon Fogus, the Mansion was later purchased and remodeled (twice!) by Leland and Jane Stanford. Leland Stanford served as Governor of California from 1862-1863. The Mansion served as the office of three governors during the turbulent 1860's - Leland Stanford, Fredrick Low and Henry Haight.
After a 14-year, $22 million restoration and rehabilitation, the tour of the 19,000-square-foot Mansion will also feature 17-foot ceilings, gilded mirrors and exquisitely detailed carved moldings, beautifully restored woodwork, elegant 19th century crystal and bronze light fixtures, historic paintings, re-created carpeting and draperies based on photographs from the 1870s to match the original interior design, original period furnishings that belonged to the Stanfords and a 19th-Century style gardens outside.
---
Subscribe to California State Parks News via e-mail at NewsRoom@parks.ca.gov
California State Parks provides for the health, inspiration and education of the people of California by helping to preserve the state's extraordinary biological diversity, protecting its most valued natural and cultural resources, and creating opportunities for high quality outdoor recreation.