For Immediate Release: 9/18/2023
State Parks Awards $33.5 Million in Grants for Off-Highway Vehicle Recreation
Contact: Newsroom@parks.ca.gov
California State Parks' Off-Highway Motor Vehicle Recreation (OHMVR) Division today announced $33.5 million in grants to further provide environmentally friendly and safe off-highway vehicle (OHV) recreation opportunities for Californians. One hundred local and federal agencies, districts, and nonprofit organizations were awarded funding for 146 projects that help maintain OHV trails and/or for motorized access to non-motorized recreation, educate the public on responsible recreation, protect wildlife and property including natural and cultural resources, and restore/repair habitat damaged from illegal or legal OHV use.
"California State Parks is excited to provide these grants to the local and federal agencies and non-profits that are forging pathways for responsible recreation, environmental stewardship conservation, and the vibrant spirit of exploration that connects the public to its cherished lands," said OHMVR Division Deputy Director Sarah Miggins.
Some examples of this year's grant recipients and their projects include:
Bureau of Land Management will receive $6.6 million for 28 projects, such as a planning project that will upgrade OHV recreation opportunities within the Eagle Lake Field Office.
Local agencies will receive a total of $8.2 million to fund 63 projects, such as a new OHV park development project by the city of Porterville.
Nonprofits will receive a total of $7.8 million to fund 20 projects, such as a grant that will allow the Kingsburg 4 Wheel Drive Club to complete road and trail maintenance work to ensure that legal OHV trails and forest roads are kept open for public OHV use.
National Park Service will receive $920,000 for a suite of restoration projects in Joshua Tree National Park that will help prevent illegal OHV activities and restore lands impacted by such activities within the park.
U.S. Forest Service will receive $9.8 million for 34 projects, including an OHV education and safety project in the Tahoe National Forest.
"Save Elephant Hill would like to thank California State Parks for investing in the restoration of the Elephant Hill Open Space Area in the El Sereno community of Los Angeles," said Elva Yanez, a representative for the Mountains Recreation and Conservation Authority. "The OHMVR Division's recent $1.2 million grant to the Mountains Recreation and Conservation Authority will support best management practices to put an end to the illegal off-roading that exploded on Elephant Hill when the COVID-19 pandemic hit and allow our organization to partner with other local groups to strategically engage the community and share information about the off-roading threats to the hillside habitat."
The division evaluated more than $41 million in grant funding requests and awarded more than $33.5 million to the successful grant recipients. The 146 projects awarded by project type include:
Development: $1,463,533 (4 projects)
Ground Operations: $13,657,558 (31 projects)
Planning: $378,909 (2 projects)
Restoration: $10,331,349 (18 projects)
Education and Safety: $1,505,795 (18 projects)
Law Enforcement: $6,200,000 (73 projects
"Thank you to the grant recipients for their partnership in providing designated OHV recreation areas to communities and protecting natural resources," stated the new Grants and Cooperative Agreements Program Manager Jenn Grady. "Spending time in nature helps with our mental, physical, and social well-being. Recreating in OHVs is another way that Californians can improve their health."
Since 1974, the OHMVR Division has awarded more than $803 million in grants through the Grants and Cooperative Agreements Program. The program provides state funding through the OHV Trust Fund for well-managed OHV recreation in California by providing financial assistance to eligible agencies and organizations that develop, maintain, operate, expand, support, or contribute to well-managed high-quality OHV recreation areas, roads, and trails. In addition, the program seeks to responsibly maintain the wildlife, soils, and habitat of project areas in a manner that will sustain long-term OHV recreation.
To view a complete list of 2023 awarded projects or to obtain more information about the grants program and opportunities, please visit the OHMVR Division grants webpage at OHV.parks.a.gov/OHV_Grants.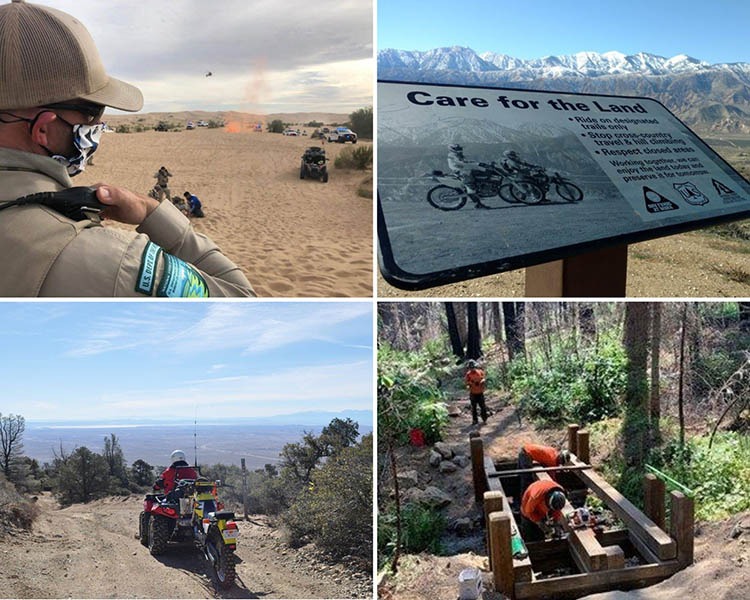 The photo collage includes previous grant awardee projects. Top left: Safety project for the Bureau of Land Management within the El Centro Field Office. Top right: Education project for the U.S Forest Service (USFS) San Bernardino National Forest. Bottom left: Safety project to Desert Search and Rescue. Bottom right: Ground Operations project to the USFS Sierra National Forest. Photos from California State Parks.
---
Subscribe to California State Parks News via e-mail at NewsRoom@parks.ca.gov
California State Parks provides for the health, inspiration and education of the people of California by helping to preserve the state's extraordinary biological diversity, protecting its most valued natural and cultural resources, and creating opportunities for high quality outdoor recreation.