For Immediate Release: 8/30/2023
California State Parks' Division of Boating and Waterways Reminds Public to Boat Responsibly Over Labor Day Weekend
Contact:
Newsroom@parks.ca.gov
SACRAMENTO, Calif. – With the unofficial end of summer approaching this Labor Day holiday weekend, California State Parks' Division of Boating and Waterways (DBW) is reminding boaters and water enthusiasts to take extra precautions to stay safe and prevent tragedies on the water. Taking a boating safety course, wearing a life jacket while recreating in the water and actively supervising children when in or near a body of water are simple actions all can take to help improve safety on California's waterways.
Here are some key safety tips:
Always wear a life jacket. Life jackets are the easiest way to reduce the chances of drowning and increase your chances of survival if you are involved in an accident.


By California law, all children under 13 are required to wear life jackets on a moving vessel, and DBW urges everyone on a vessel, regardless of age, to always wear a life jacket as a preventative measure.
Life jackets are also required on personal watercrafts, also known as Jet Skis, regardless of age. Paddle sports, including stand-up paddleboards and kayaks, are considered vessels and the same life jacket rules apply to people aboard the paddle craft.
Ensure each life jacket is U.S. Coast Guard-approved, the right fit for the user and approved for the intended activity by checking the label. The label can be found on the inside of each life jacket along with the U.S. Coast Guard approval number.
If you don't have a life jacket, borrow one through DBW's Life Jacket Loaner Program.

Take a boating safety course and get your California Boater Card. Even the most experienced boaters can learn from boating safety courses. As of Jan. 1, 2023, all operators of motorized vessels on California waterways who are 50 years of age and younger are required to carry a lifetime boater card. By 2025, all operators of motorized vessels will be required to carry one, regardless of age.
File a float plan before you head out. Share a float plan with a family member or friend with the details of your trip in the event of an emergency.Check the weather. Know the latest weather forecast prior to going out and check regularly for changing conditions.
Leave the alcohol at home. Alcohol and boating never mix. It is against the law to operate a boat with a blood alcohol concentration (BAC) of 0.08% or more. You can be arrested even when the BAC is less than 0.08% if conditions are deemed to be unsafe. The sun, wind and wave action intensify the effects of alcohol.
Protect your loved ones:

Always supervise children by appointing a designated "water watcher," taking turns with other adults. Do not assume that someone is watching your children.
Know your limits. Swimming in a lake, ocean or river is different than swimming in a pool.
If someone is in distress, seek help from a lifeguard or call 911 if one is not available.

Stow it, don't throw it. Keep your trash on board. Never throw cigarette butts, fishing lines or any other garbage into waterways. Take advantage of shoreside facilities to recycle plastic, glass, metal and paper. Avoid excess packaging. Used fishing line can be deposited at a fishing line recycling station.
Download helpful boating apps to your phone. The BoatCA App is a free mobile app with information on boating facilities, life jacket loan stations, laws, boat registration and more.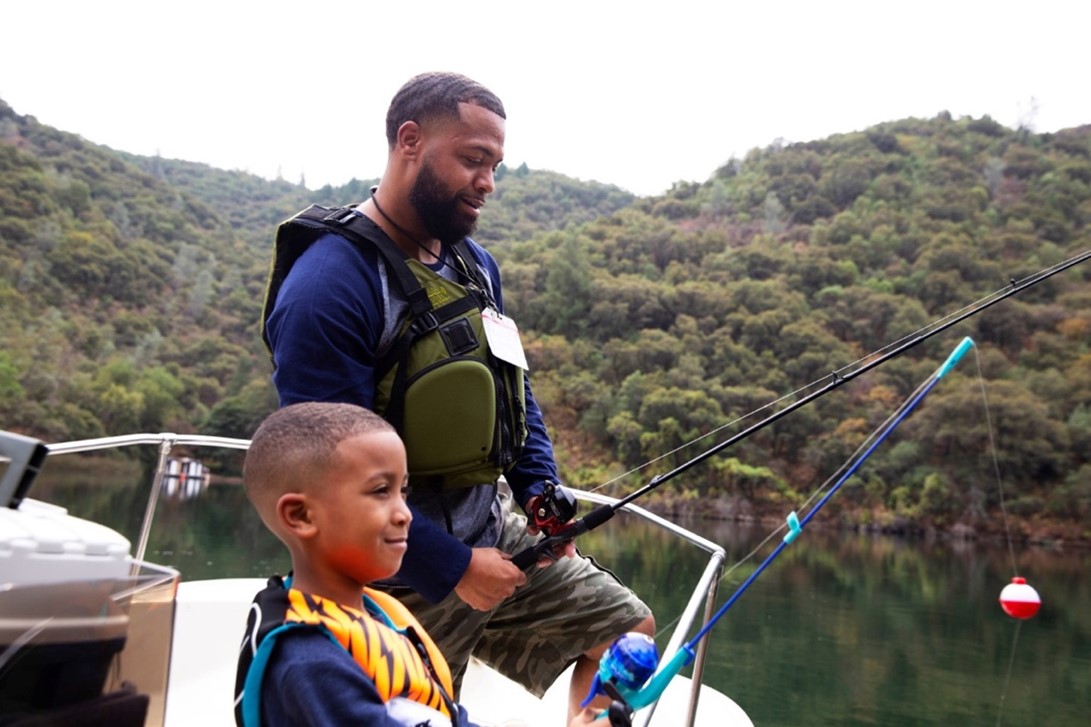 Fishing at Lake Clementine in Auburn State Recreation Area. Photo from Division of Boating and Waterways.
---
Subscribe to California State Parks News via e-mail at NewsRoom@parks.ca.gov
California State Parks provides for the health, inspiration and education of the people of California by helping to preserve the state's extraordinary biological diversity, protecting its most valued natural and cultural resources, and creating opportunities for high quality outdoor recreation.