For Immediate Release: 8/25/2023
California State Parks Unveils Enhanced PORTS Website Offering Innovative Learning Resources for Teachers and Students
Contact:
Newsroom@parks.ca.gov
Registration period for free K-12 virtual experiences opens September 1

SACRAMENTO, Calif.— California State Parks is thrilled to announce the launch of the enhanced PORTS: Parks Online Resources for Teachers and Students ® website, now available at ports.parks.ca.gov. The PORTS program has undergone a transformation, providing educators and students with an even more engaging and immersive online learning experience.
PORTS is an innovative initiative that connects K-12 classrooms with the wonders of California's diverse state parks through virtual field trips, live interactive sessions, and comprehensive digital resources. The newly updated website offers a range of exciting features to enrich the educational journey of teachers and students across the state.
New features of the PORTS website include:
Filter and Search with the PORTSfinder: The upgraded PORTS website now boasts a user-friendly interface that allows educators to easily search, filter, and access a diverse collection of digital curriculum resources tailored to various grade levels and subjects. These resources include lesson plans, videos, interactive activities, and more, all designed to align with academic standards while immersing students in the natural and cultural heritage of California's state parks.


Enhanced User Experience: Navigating the PORTS website is now smoother and more intuitive, ensuring that educators can swiftly locate the perfect resources to enhance their classroom instruction. The new design also facilitates effortless interaction, making it easier than ever for teachers to plan captivating virtual field trips and dynamic learning experiences.
Email List Registration: To stay informed about upcoming virtual programs, announcements, and valuable updates, educators are encouraged to register for the PORTS email list. This ensures that teachers are the first to know about new resources, session offerings, and program enhancements. Registering for the email list is the optimal way to receive timely information and stay connected with the PORTS community.

Beginning September 1, California educators are invited to sign up for free PORTS Programs on the new website. By participating, teachers gain access to an immersive learning environment that utilizes the rich resources of California State Parks to enhance their classroom teaching. Engage students in captivating virtual field trips and empower them to learn, grow, and explore the wonders of the great outdoors without leaving the comfort of their classrooms.
To receive the latest updates and information about PORTS, educators can sign up at ports.parks.ca.gov/Signup.
Updates on the PORTS program are also available on Facebook, Instagram, X, Threads, and YouTube.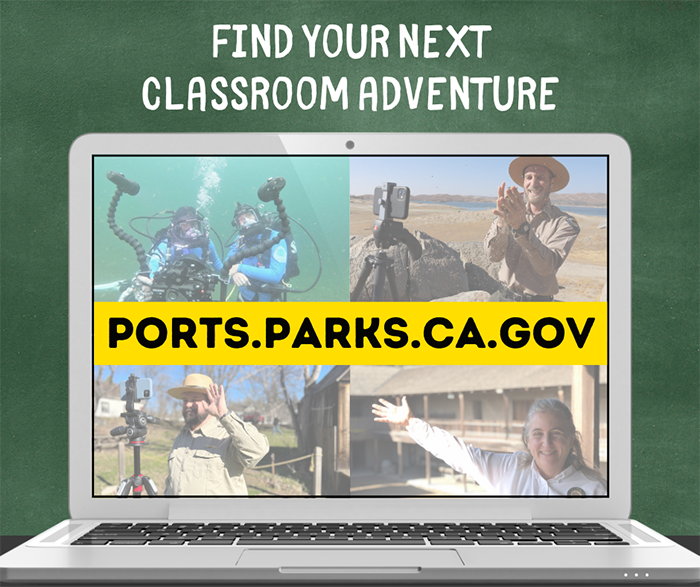 Image of the new PORTS: Parks Online Resources for Teachers and Students ® website.
---
Subscribe to California State Parks News via e-mail at NewsRoom@parks.ca.gov
California State Parks provides for the health, inspiration and education of the people of California by helping to preserve the state's extraordinary biological diversity, protecting its most valued natural and cultural resources, and creating opportunities for high quality outdoor recreation.