For Immediate Release: 11/16/2021
California State Parks Reaches Milestone of Virtually Connecting 1 Million K-12 Students to the Outdoors
Contact: Newsroom
California State Parks is proud to announce it has reached a major milestone in connecting more than 1 million K-12 students to state parks via free virtual field trips since 2004.
Each school year, classrooms in California, across the United States and around the world have tuned into Parks Online Resources for Teachers and Students® (PORTS) interactive distance learning programs, allowing them to connect with the State Park System's diverse and significant natural, cultural and historical resources through free live virtual field trips, public broadcast presentations and curated online resources. Program staff engages students by creating equitable digital access to state parks at no cost to schools, teachers and students. The digital resources are available in multiple languages and provide an in-depth examination of topics, including Indigenous cultures, climate change and adaptations of animals and habitats—all told through the lens of the specific state parks where the program originates.
"The PORTS Program has done an incredible job at virtually engaging with a million students who, for some, may not have easy access to connect in person with nature," said California State Parks Director Armando Quintero. "These virtual field trips may be the first time a student sees a giant sequoia or sees the ocean creatures hiding in the tide pools. It is the hope that these virtual field trips deepen their interest in the outdoors beyond the classrooms and empower a new generation of global citizens as protectors and caretakers of their state park lands."
It took State Parks 15 years to reach the 500,000 students mark. Due to the unique circumstances of the COVID-19 pandemic, engagement in the last two years doubled to reach 1 million students and their families. The program was uniquely positioned with trained staff and the necessary technology in place to provide digital access programs for K-12 students and the public who found themselves at home at the onset of the pandemic.
Additionally, PORTS leveraged its network of educators and park staff to rapidly respond to the needs of teachers and parents seeking quality educational content. In the 19 months that have passed since classrooms entered the digital learning space, PORTS has continued to evolve how it offers its programs and resources. For example, a library of curated content and teaching materials has been developed for educators who may not be able to register for one of the live guided programs.
For the 2021-2022 school year, PORTS has added additional state parks to provide presentations for students with the goal of empowering them to be global citizens. Teachers have jumped at the opportunity to connect with new parks and have already booked more than 5,300 PORTS Programs for the school year, integrating PORTS virtual field trips into their classroom curriculum.
"Even though we live in a state with incredible natural resources and parks, too many Californians lack access to open space and parks near their homes and neighborhoods," said Natural Resources Agency Undersecretary Angela Barranco. "We're thrilled that the PORTS program is allowing so many schools and students to connect with parks through virtual field trips and to experience a full array of natural, historic and cultural resources."
The State of California believes in the right of all Californians to have access to recreational opportunities and enjoy the cultural, historical and natural resources found across the state. Too many Californians cannot access the state's parks, beaches and outdoor spaces, nor the state's array of museums and cultural and historical sites. Given this, the California Natural Resources Agency and California State Parks are prioritizing efforts to expand all Californians' access to park, open space, nature and cultural amenities. This priority requires reshaping funding and programs to expand opportunities to enjoy these places. Doing so advances Governor Gavin Newsom's strong personal commitment to building a "California for All."
California State Parks' partner Parks California will be hosting a virtual livestream on Thursday, November 18, at 4 p.m. to celebrate the achievements of the PORTS Program. Previous and current park interpreters will be sharing stories about the early days of the program. Educators will also be sharing how the program has enhanced their teaching. The public is invited to join the live event by registering here: https://bit.ly/PORTScelebration.
For more information about PORTS, please visit ports-ca.us/ or follow them on Facebook, Instagram and Twitter, and tag them using the hashtag #PORTSfan on social media for current events and announcements.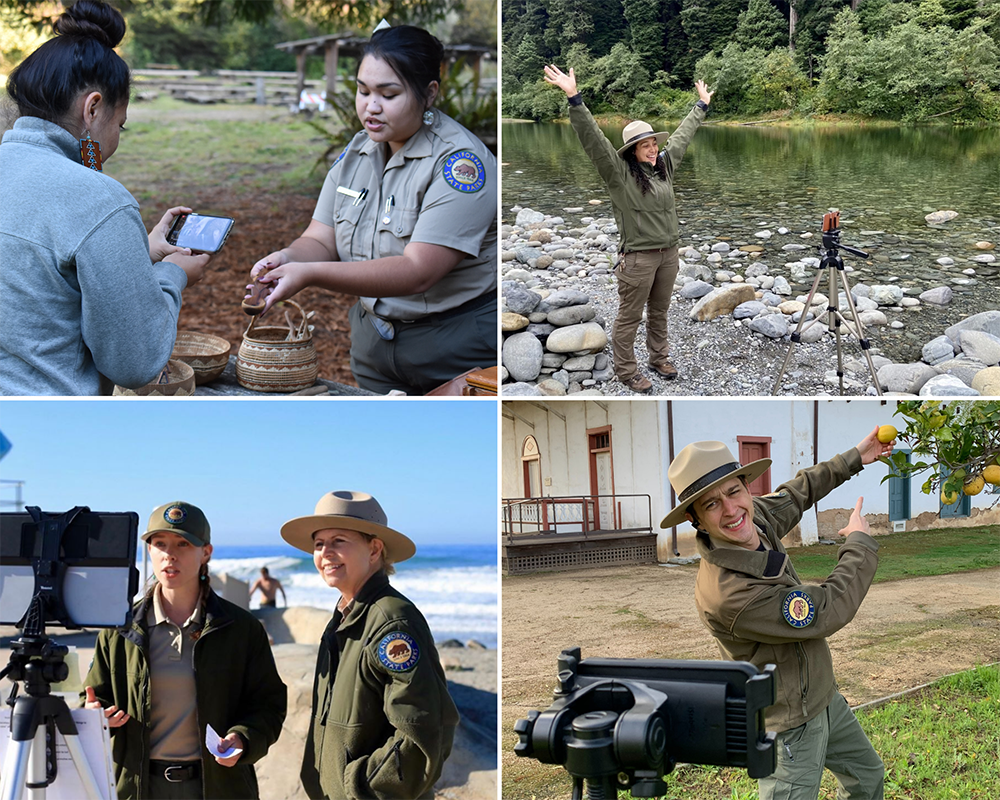 Parks Online Resources for Teachers and Students (PORTS) Program staff has engaged with more than 1 million students with virtual field trips since its inception in 2004.
---
Subscribe to California State Parks News via e-mail at NewsRoom@parks.ca.gov
California State Parks provides for the health, inspiration and education of the people of California by helping to preserve the state's extraordinary biological diversity, protecting its most valued natural and cultural resources, and creating opportunities for high quality outdoor recreation.