For Immediate Release: 9/14/2021
Mount Diablo State Park Turns 100
Contact:
Sharon Peterson
State Park Interpreter
(916)594-0706
Doug Johnson
Information Officer
A Peak Experience – Celebrating 100 Years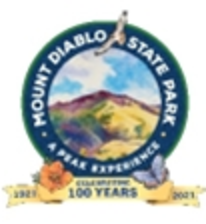 SACRAMENTO, Calif. — This year Mount Diablo State Park celebrates its 100th birthday! The mountain's unique natural features have long inspired a special place in the hearts of the community and led to it becoming a park in 1921.
Located in the San Francisco Bay Area to the east of Walnut Creek, people have been drawn for generations to Mount Diablo for its spectacular views from the summit which extend over 100 miles in all directions on a clear day. Visitors have been attracted by the complex geology that has created amazing rock formations such as the "wind caves" at Rock City, and by the mountain's variety of habitats which are home to over 600 species of plants and an amazing array of wildlife ranging from creatures such as butterflies, bats and birds of prey that fly through the air, to tarantulas, bobcats, lizards, snakes and deer who are among the many animals that roam on land.
Though 100 years is a long history as a park, the importance of Mount Diablo was recognized long before that. For thousands of years Native Americans were the caretakers of this land. Many groups considered and treated the mountain as a sacred place and continue to do so today.
Since becoming a park in 1921, Mount Diablo has been protected as a natural area, and over the past 100 years the park has grown from only a few hundred acres to over 20,000 acres. Today it is a destination for those who would like to view wildlife and wildflowers, experience beautiful views, hike, camp, picnic, run, cycle, climb, ride horses, or gaze at the stars.
The public is invited to join California State Parks and its partners in celebrating Mount Diablo State Park's centennial through the remainder of 2021. Follow Mount Diablo on Facebook for the latest information such as hikes and an October 16 centennial celebration. Centennial events are made possible by a collaboration between State Parks, the Mount Diablo Interpretive Association (a nonprofit organization that supports the park), Save Mount Diablo, and Cal State East Bay.
Above: Mount Diablo dedication ceremony on June 19, 1921. Below: A view from Mount Diablo
Visiting Mount Diablo: Safety Tips
All hikers should be prepared with water and comfortable close-toed shoes suitable for walking on uneven ground. The mountain is experiencing a water shortage so bring plenty of drinking water from home. A hat and sunscreen are recommended. State Parks encourages all visitors including drivers, bicyclists and equestrian riders on Mount Diablo to share the road and know the rules. Additional safety tips can be found on Mount Diablo's webpage at www.parks.ca.gov/MountDiablo.
State Parks supports equal access. Prior to arrival, visitors with disabilities who need assistance should contact the park at (925) 837-2525. 711, TTY RELAY SERVICE.
---
Subscribe to California State Parks News via e-mail at NewsRoom@parks.ca.gov
California State Parks provides for the health, inspiration and education of the people of California by helping to preserve the state's extraordinary biological diversity, protecting its most valued natural and cultural resources, and creating opportunities for high quality outdoor recreation.