For Immediate Release: 2/8/2021
California State Parks Invites the Public to Virtually Celebrate Chinese New Year of the Metal Ox
Weaverville Joss House State Historic Park to host online events on Feb. 12, 2021
Contact:
Newsroom@parks.ca.gov
WEAVERVILLE, Calif. — History will come alive once again in Weaverville when a virtual Chinese New Year Celebration and Lion Dance will be presented on the Weaverville Joss House State Historic Park. This virtual event is being offered on the California State Parks PORTS Home Learning Program as well as the Park's Facebook page. The virtual celebration will be broadcast on the first day of the Lunar New Year - Friday, Feb. 12 at 10 a.m. from the oldest continuously used Chinese Taoist Temple in California known as the Cloud Forest Temple.
The celebration will be presented in three separate online programs. The virtual event is being presented towards K – 12 grade levels in collaboration with the department's Parks Online Resources for Teachers and Students (PORTS) school programming platform.
To view this event, you can register as a participant at www.ports-ca.us to receive a link OR join by viewing the park's Facebook page.
Virtual Agenda:
10 a.m. - Traditions in the Cloud Forest Temple
Jack Frost, California State Park Historic Monument Guide, will welcome you into the temple as he introduces Chinese New Year traditions. The special meaning behind incense, food offerings, money, and the revered ancestors will be shared.
11 a.m. - Lion Dance & Lantern Craft
We begin with the colorful Lion Dance presented virtually by the Lion Dance group, Eastern Ways. A Lion Dance is one of China's oldest cultural performance arts. Chinese believe "the lion will preserve peace and tranquility in the community and prevail over all evil to bring joy and happiness in the New Year." Several guests who were born in China will be sharing their memories of their early New Year's. Next, there will be a demonstration making traditional red lanterns, and talking about the Chinese zodiac years.
1 p.m. - Temple Heartbeat & Firecrackers
Viewers will share a special sacred time in the Cloud Forest Temple and the unique temple heartbeat will sound on the gong and drum. The finale of the event will be lighting loud Chinese firecrackers to scare the bad spirits away!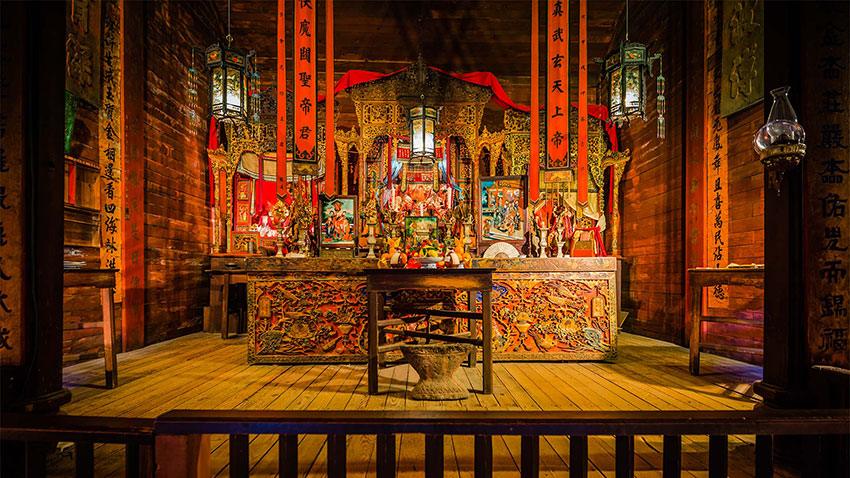 Inner sanctuary and alter inside the "Temple of the Forest Beneath the Clouds," the oldest continuously used Chinese temple in California located at Weaverville Joss House State Historic Park. Photo from California State Parks.
###
---
Subscribe to California State Parks News via e-mail at NewsRoom@parks.ca.gov
California State Parks provides for the health, inspiration and education of the people of California by helping to preserve the state's extraordinary biological diversity, protecting its most valued natural and cultural resources, and creating opportunities for high quality outdoor recreation.